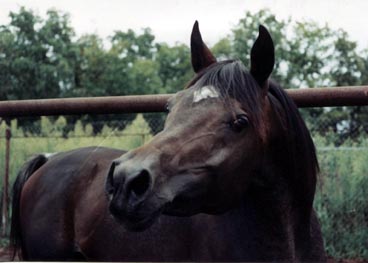 Fa Al Badi+/
#274597
(Fa Serman x Bintzaris Lady)
1983 15h hand black bay stallion
"Bo" passed away July 16, 2001
"You never will
Learn to Be Still"
Eagles
FA AL BADI+/ is the excellent outcome of a stallion off the Babson farm with a mare from the Ruminaja Ranch! He is a beautiful Egyptian bred black bay stallion by FA SERMAN , who is by IBN FA SERR and out of FA MONIET, dam of Ansata's lead sire PRINCE FA MONIET. FA SERMAN, a straight Babson stallion, is a many time halter, English Pleasure, and Park horse winner in Wisconsin. IBN FA SERR was one of the three top sires of performance winners at the 1986 Egyptian event, and is the sire of the US Gold Medal Dressage winner, SERR MAARINER.
BINTZARIS LADY was bred by the Ruminaja Ranch and traces in tail female to their foundation mare, AZ. BINTZARIS LADY is by the great SHAIKH AL BADI, who was the 1973 US National Reserve Champion Futurity Colt and sire of nine National winners, including PRINCE IBN SHAIKH AND RUMINAJA ALI.
FA AL BADI+/ passes on his extremely good temperament, excellent shoulder and length of stride, and of course his gorgeous head. His daughter Ffire Storm, won her first 50 this year, and is training for 100 milers. She inherited his excellent smooth gaits, and super recoveries, plus his gentle disposition.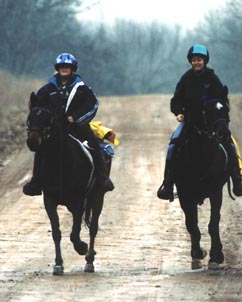 Amber Burton on FfireStorm and Louise Burton on Fa Al Badi+/
Some of FA AL BADI+/'s notable awards have been:
1987:Champion Halter Stallion, Top Five Hunter Pleasure & Costume Missouri Arabian Horse Association High Point Stallion
1988: MAHA Endurance Horse Champion 1991: Champion Endurance Stallion in the Central Region, Top Five in the Nation. High Mileage Horse in the State of Oklahoma, second in the Region. Top Ten Horse/Rider Team, Central Region
1992: IAHA Regional Champion!
1993: Third AERC Stallion in the Nation!
1997: Legion of Supreme Honor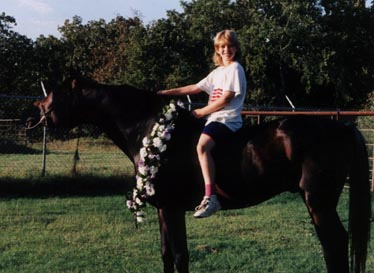 1999: Best Condition, Ozark Winter I. His daughter wins the ride.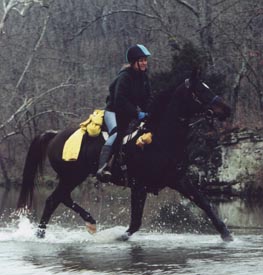 July 1999: Retirement ride Lone Star 2 day. Only one of two horses to complete both days! And a finish with all As!
Now his daughter takes over, winning the same ride in 2001 as a grueling three day, and also getting best condition, enabling her to receive her Legion Of Honor!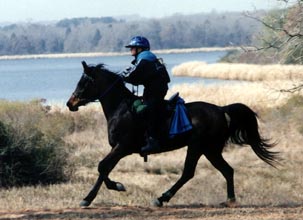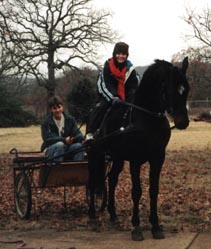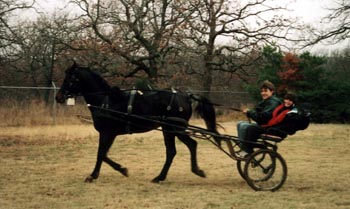 Bo's retirement job,
which he loves!
New colt by Fa Al Badi+/ x TF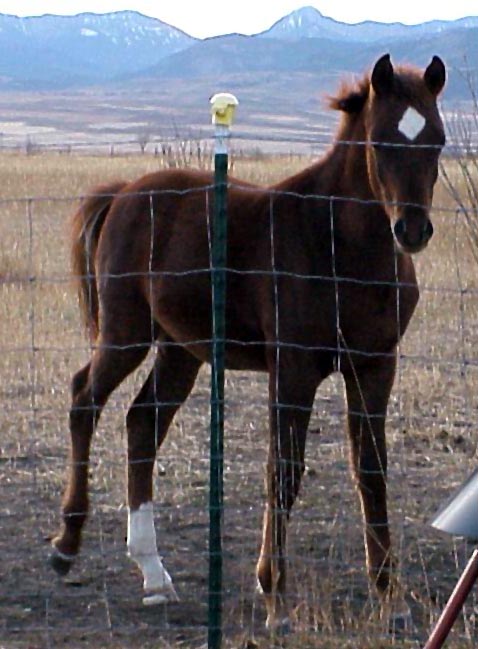 Summer Song!!
Fa Al Badi+/ at play...