References-Horses Sold page 2
This page is dedicated to the memory of Kashan, the first firedance farms endurance horse we sold. He passed away in 2014 at the age of 27, retired and happy to the very end!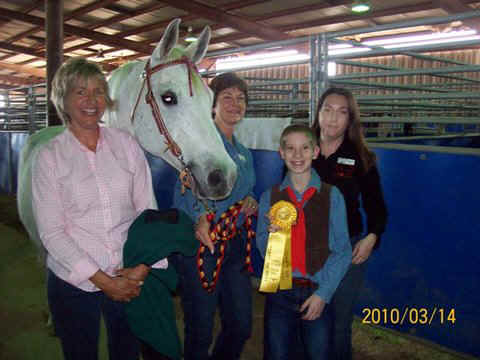 SCS Silverado: "Kashan" was the first Firedance Farms endurance horse we sold and he is proudly owned by Mary Beth Read of Texas. He currently is a showhorse for therapy and recently (2010) two silvers and a bronze medal at the Special Olympics! Feel free to contact Mary Beth about Kashan! readjoe@aol.com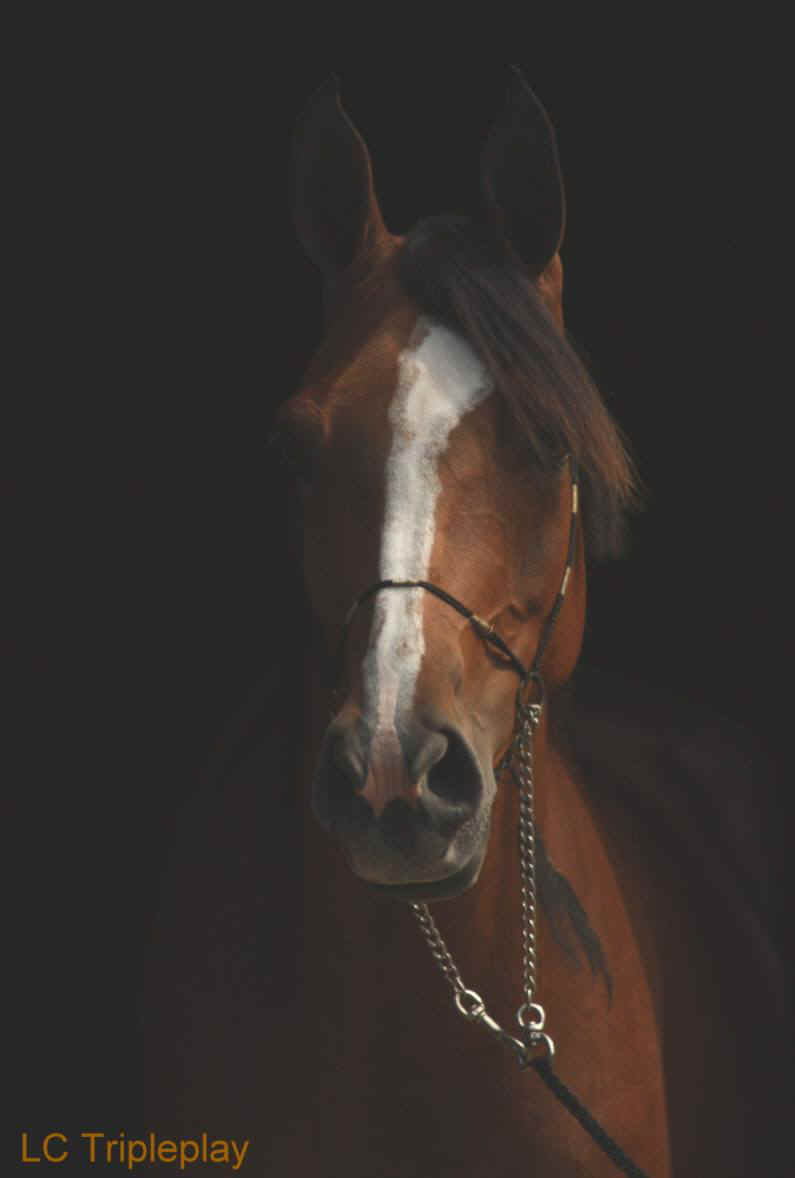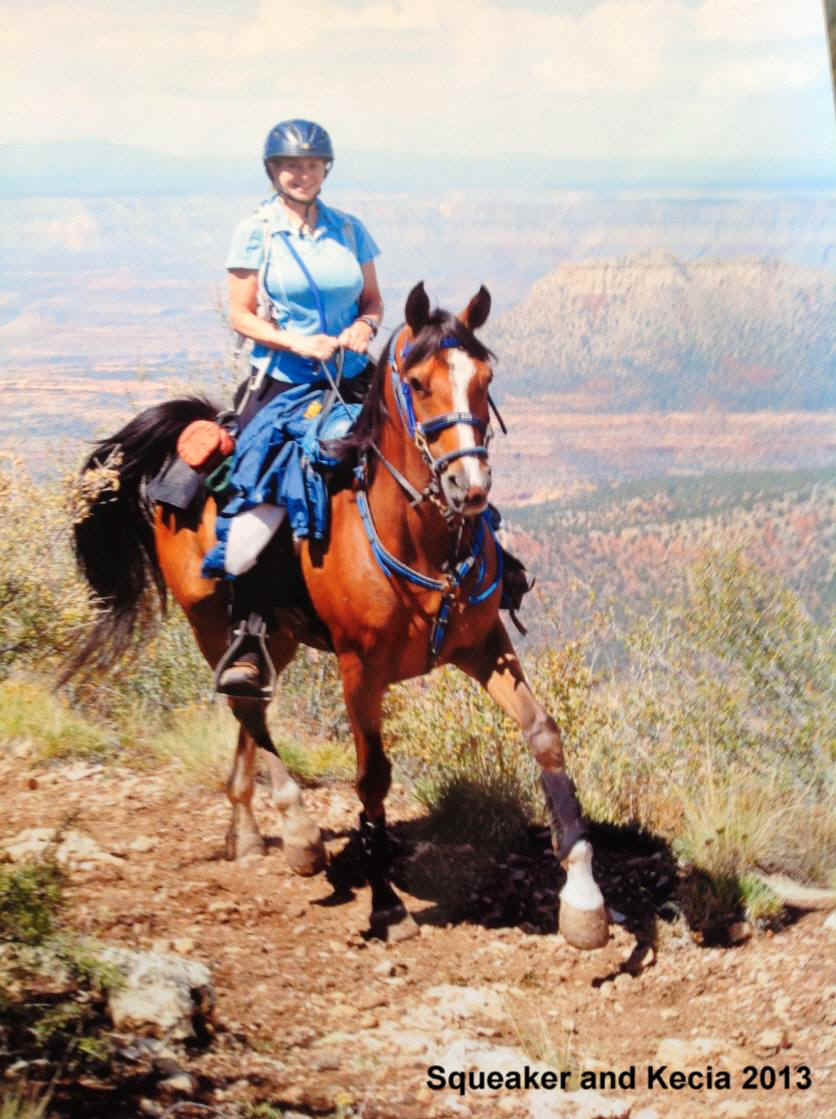 LC TRIPLEPLAY: Update! Tripleplay has done four 50s and won two second places, one 3rd and two high vet scores! He won overall Best Condition in the Hotter Than Hell series (50s) this summer! Please see his ride record; we are not going fast, he is just that good! He is also the top endurance horse in the OCER club at the moment! Tripleplay is a 6 yr old 15h gelding of wonderful old Polish breeding. Tripleplay loves people and is very willing to please. He is incredibly smooth, and has that wonderful lope you can ride forever! "Player" always wants to go down the trail. I just love riding this horse! No shies and he is so very sweet. He needs someone who wants to be his best friend and he will do anything for you! Tripleplay is going to make a great 100 mile horse as he is very smooth and takes care of himself and has the heart to go forever! He excells in hot weather! Breeders Sweepstakes. Tripleplay has met his perfect match with Kecia Smette of Arizona! Look for them at rides this winter! Kecia says you are welcome to contact her about Firedance Farms horses! krs623@gmail.com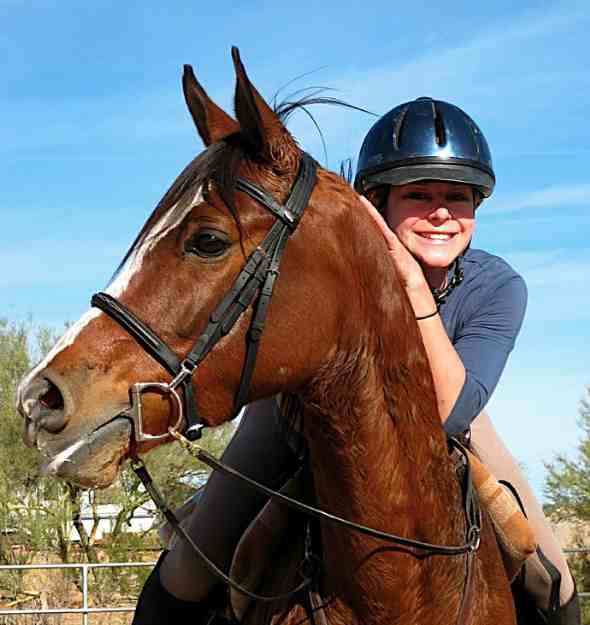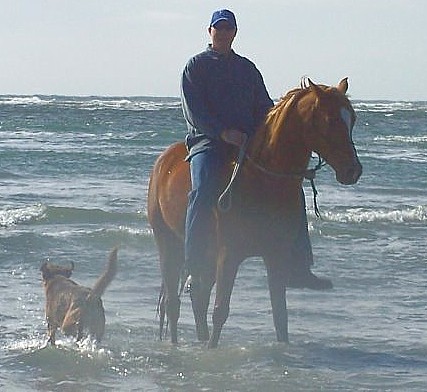 AMATI Beautiful 6 year old chestnut gelding with long flaxen mane. Extremely pretty with excellent movement! Very gentle, loves people, 15.1h. Very upright carriage. Prettiest head you've ever seen! He is a JK Amadeus son out of a Medalion daughter out of Fire Melody, so this horse is bred to TROT! Sweepstakes nominated. Being conditioned by a heavyweight. He has done three slow 50s this spring.
This horse is most happily owned by Jay Williams of North Carolina! He would be glad to talk with you about Firedance Farms Arabians! jcwdragonfly@yahoo.com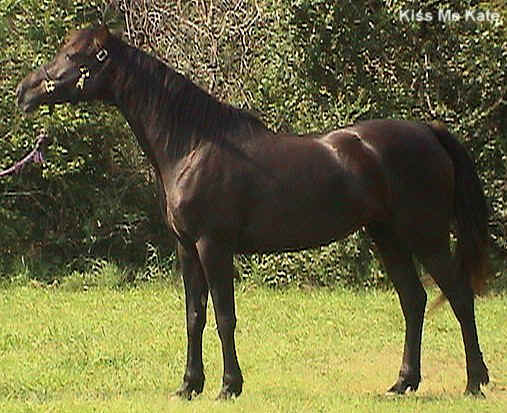 HA KISS ME KATE: 8 yr old black NSH. This is a beautiful mare whom anyone can ride! She doesn't shy,
she doesn't trip, buck, rear, or refuse to go forward! And she is the smoothest horse ever! Kate is the horse that I rode after my accident because I knew I would not fall off! She's 15.2+ and is absolutely stunning. Jay Williams is also the happy owner of Kate! jcwdragonfly@yahoo.com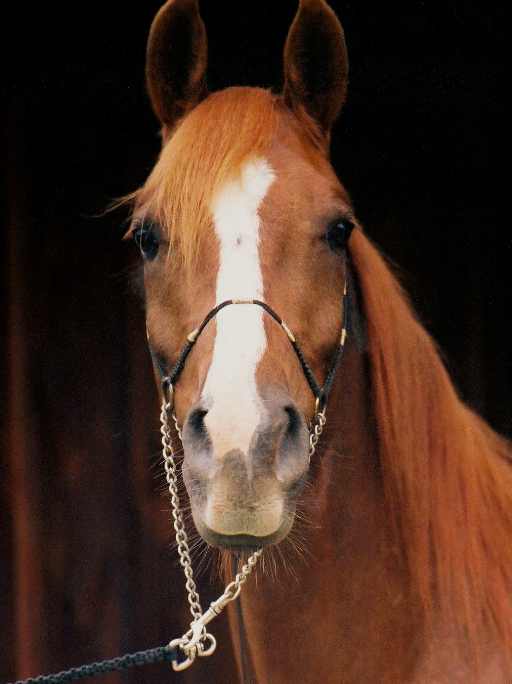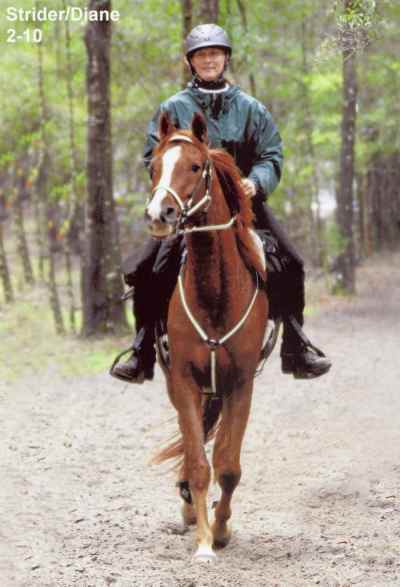 MD VIRGO: wow, this colt is awesome! He is truly 16h and he is will be 4 this summer! He is a gorgeous purebred of a Polish/American mix. He is green broke, very willing to learn, and just loves to be goo-gooed over. "Strider" is already excellent on trail with no spooks and willing to go over anything! He is tall, but he is not as big boned as the two mares above. He has beautiful smooth gaits and an excellent back. I've never seen an Arabian his size with such outstanding conformation. Breeders Sweepstakes. $5000 OK SE Region, you are going to have one great competitor in a few years! Diane Hawthorne of FL has snatched him up already! You are welcome to e-mail her regarding Firedance Farms horses! jacqualee@hotmail.com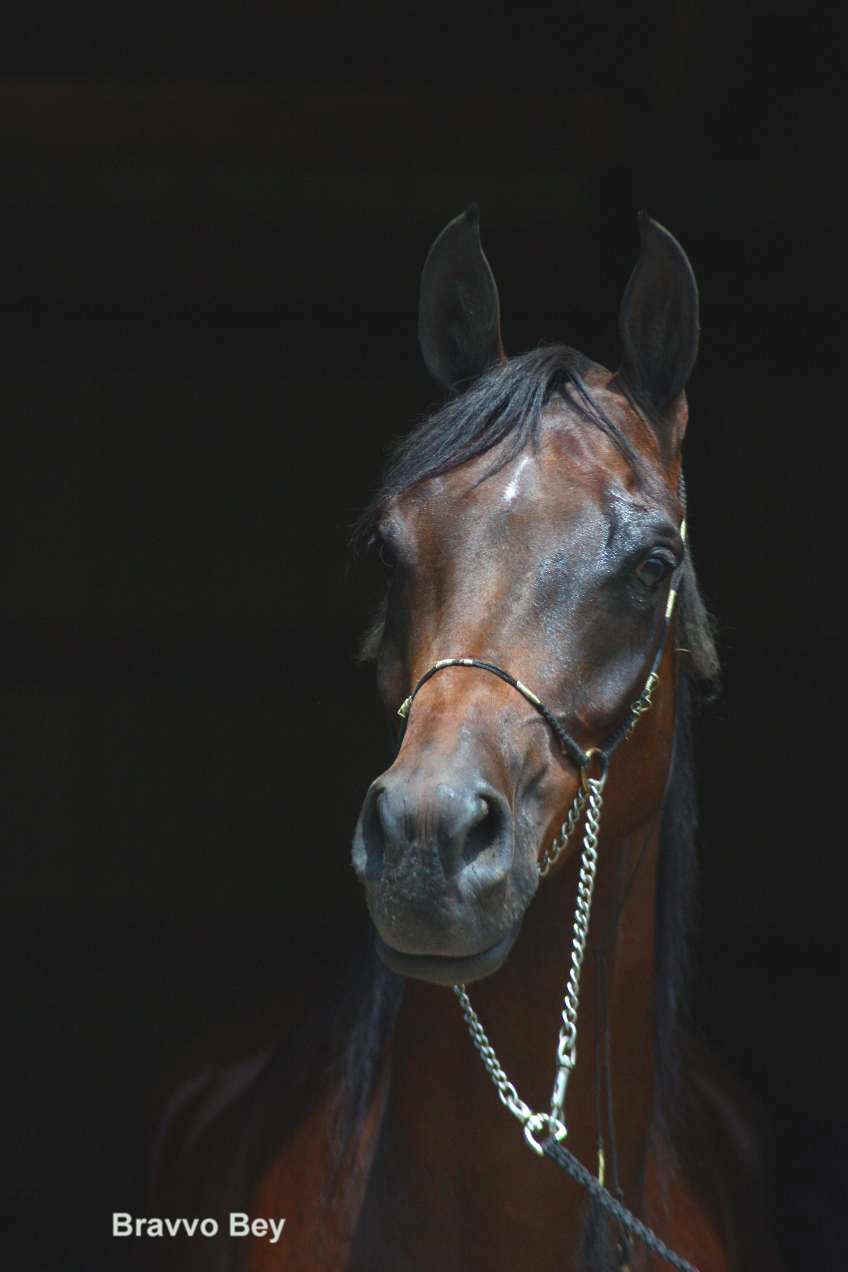 Bravvo Bey: 15.3-16h coming 6 yr old bay purebred. Mostly Polish with some domestic tail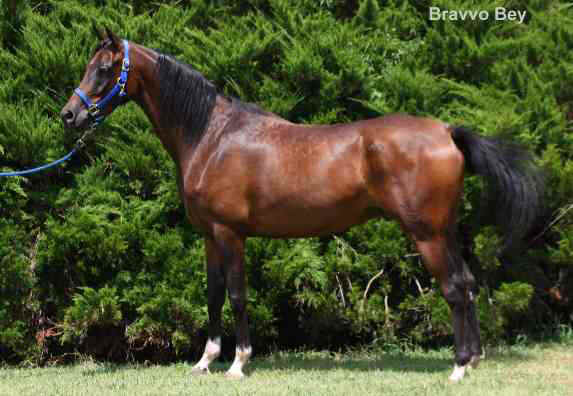 female. This horse is very kind and absolutely loves attention. He can trot like the wind and he is not a spook! And yes, he is a huge purebred! Bravvo is big and fun and has a great personality. Anyone can ride this horse. I love taking this horse out on trail when I want a fun, relaxing ride. He also shows a lot of potential for dressage! NEWS: Bravvo just won high vet score on his first 50 Oct 1st! Breeders Sweepstakes. $6500 Bravvo has found his perfect partner in Sharon Bechler of Hawaii and now back in California!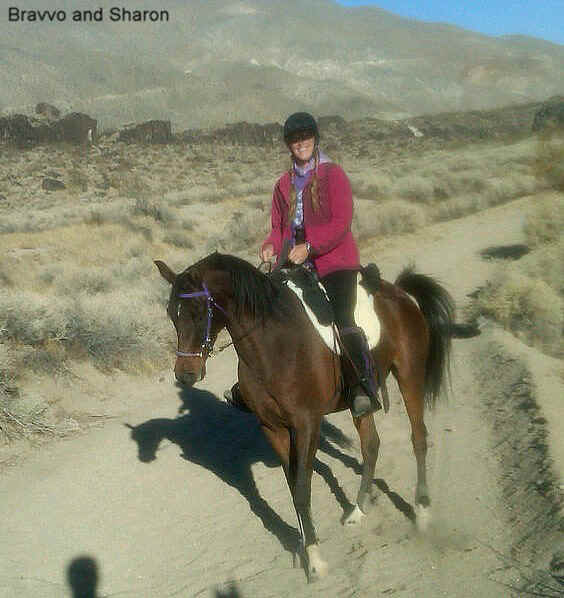 You are welcome to email Sharon about firedance farms horses! sharonaloha@gmail.com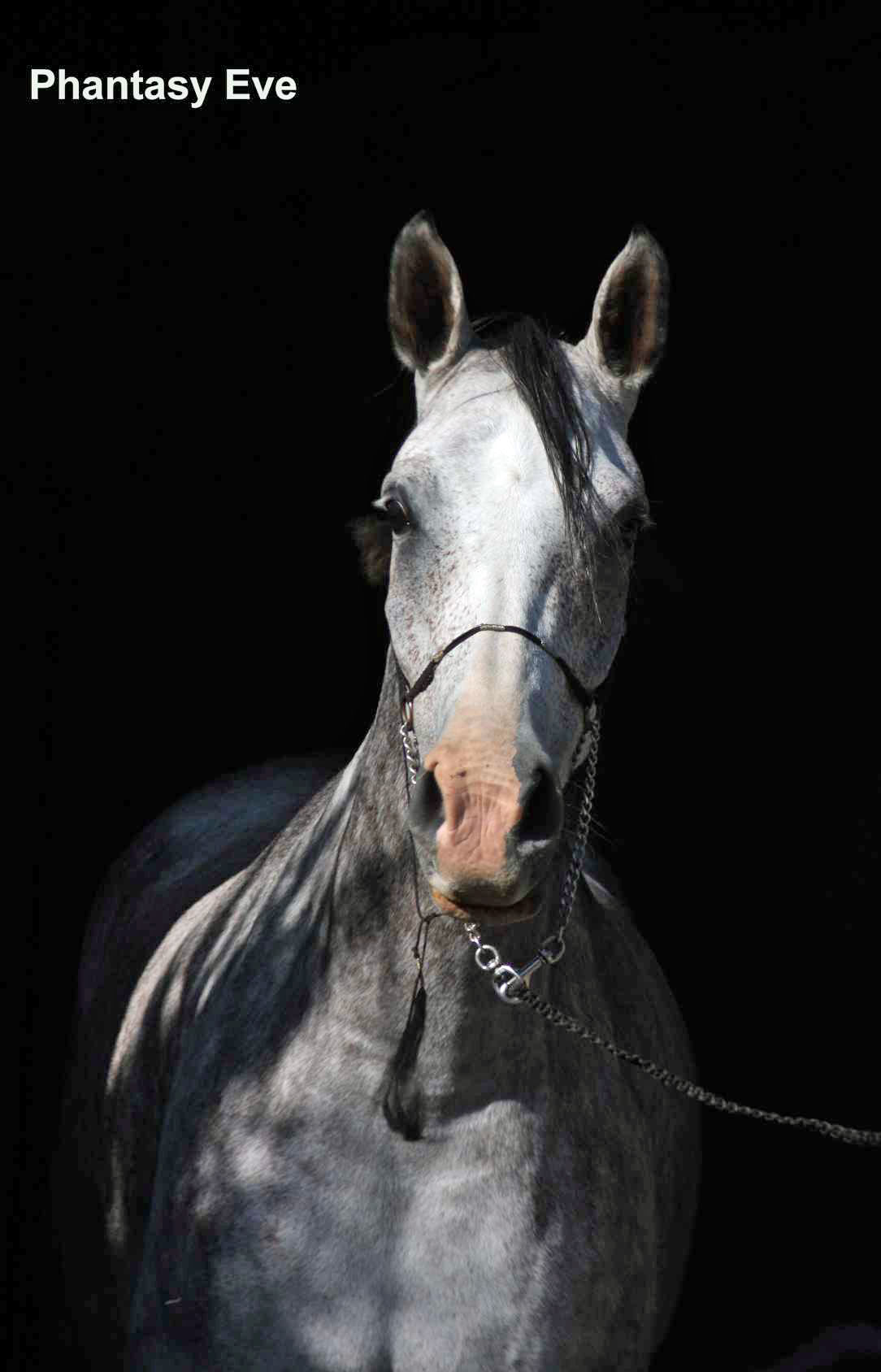 PHANTASY EVE: 2005 Straight Russian Grey Mare by Krakow and out of The One Iment (see bloodstock)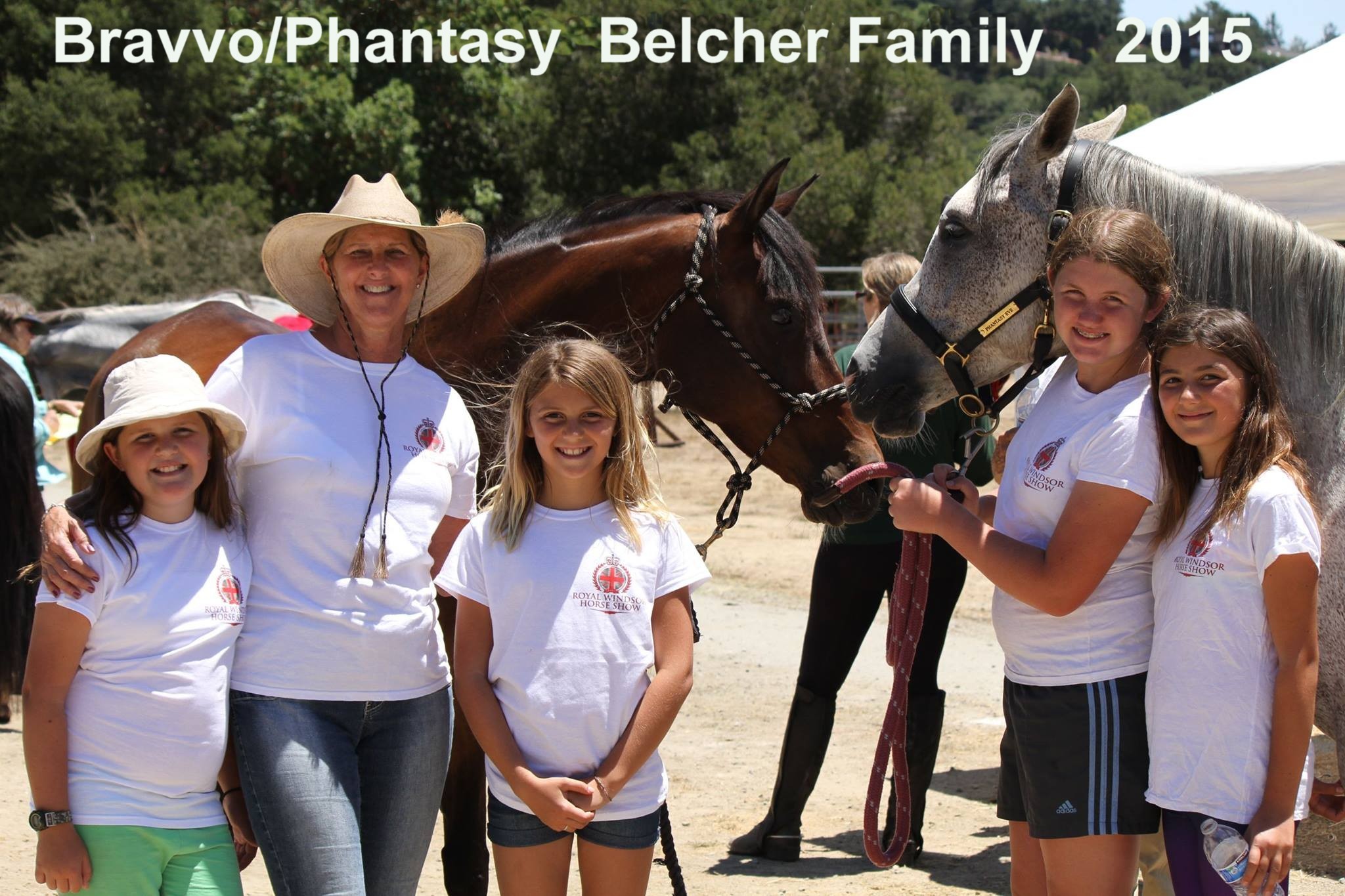 I had not planned on selling this fabulous Straight Russian filly. She is the last foal we have of MSA Magnollia and by Krakow, the most awesome Russian stallion (see bloodstock). Her brothers include PassU, Prowlerr, and Paradoxx. But Sharon fell in love with her and she now has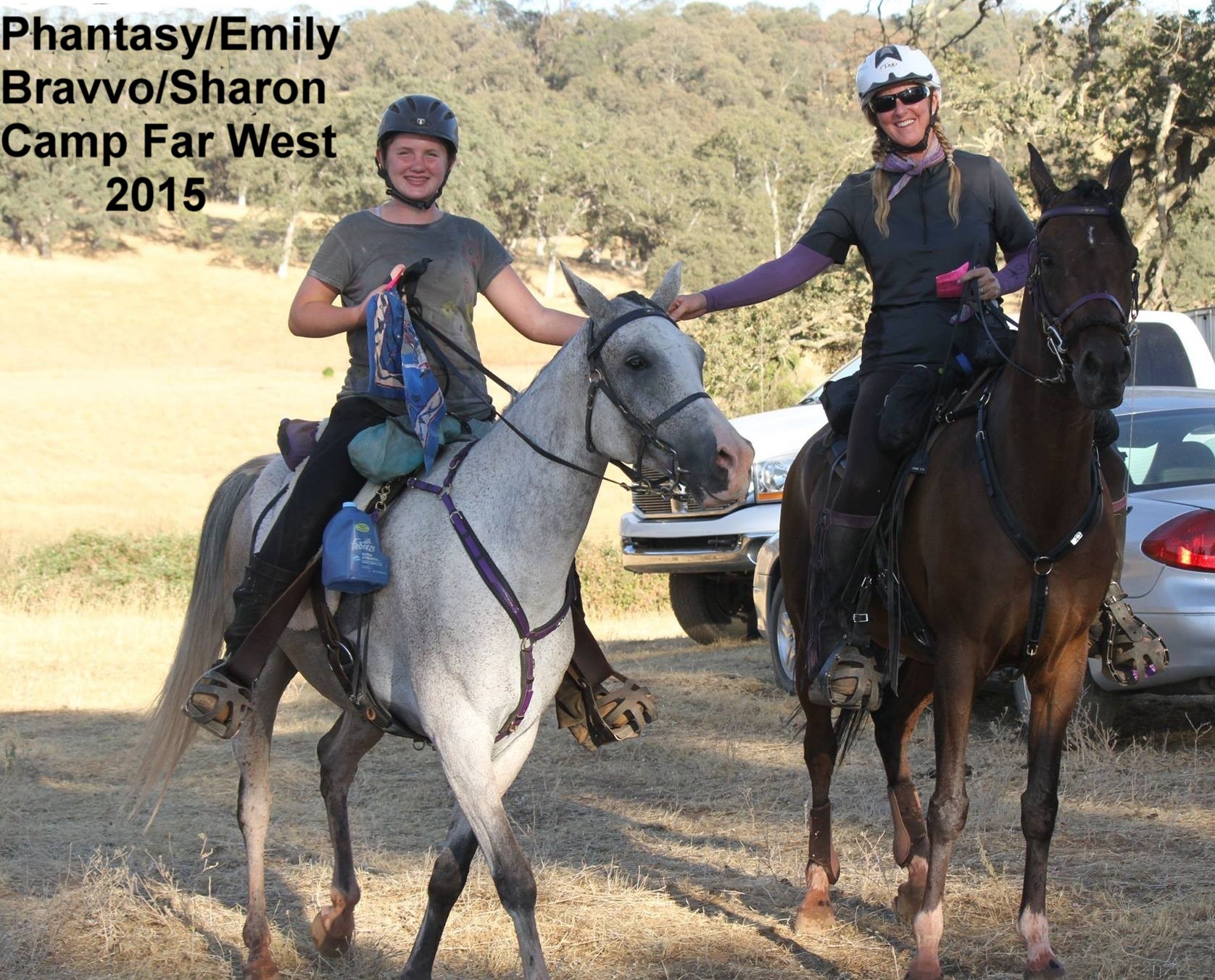 a great home with her in CA. She is currently ridden by Sharon's granddaughter, Emily.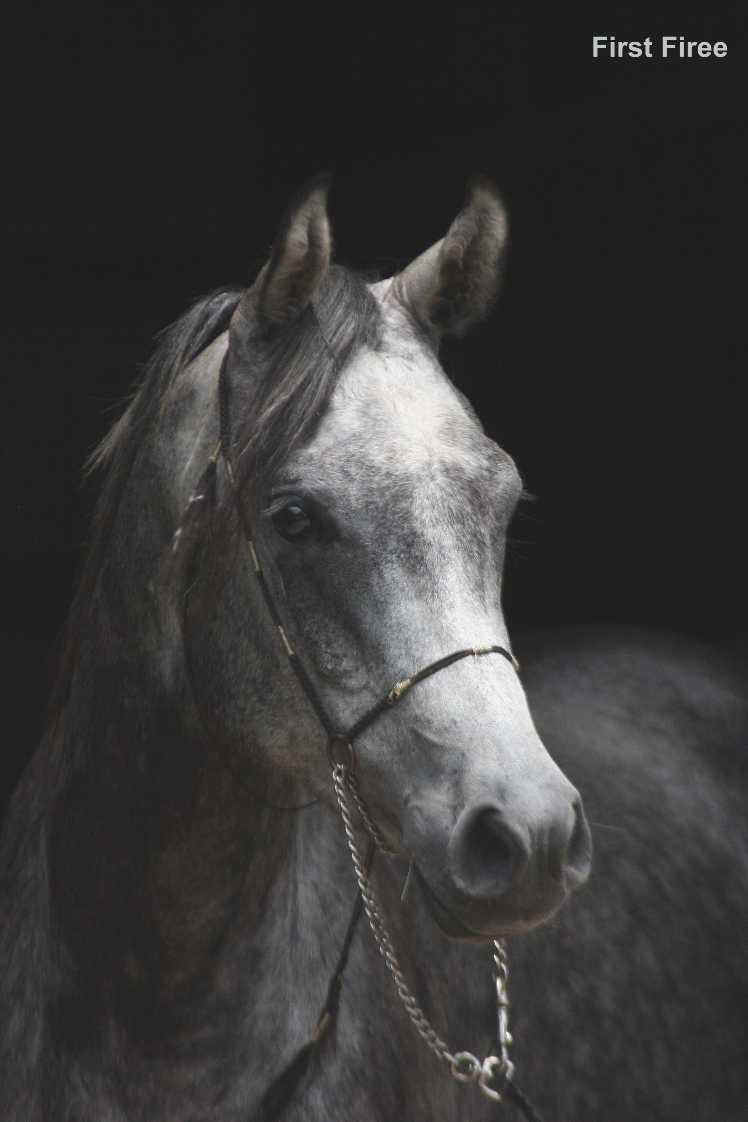 First Firee: Just a tad under 15.2 h 5 yr old grey purebred. His third generation is Padrons Psyche, Bey Shah, El Shaklan and Retador, so he is a great mix of Russian, Polish, Egyptian and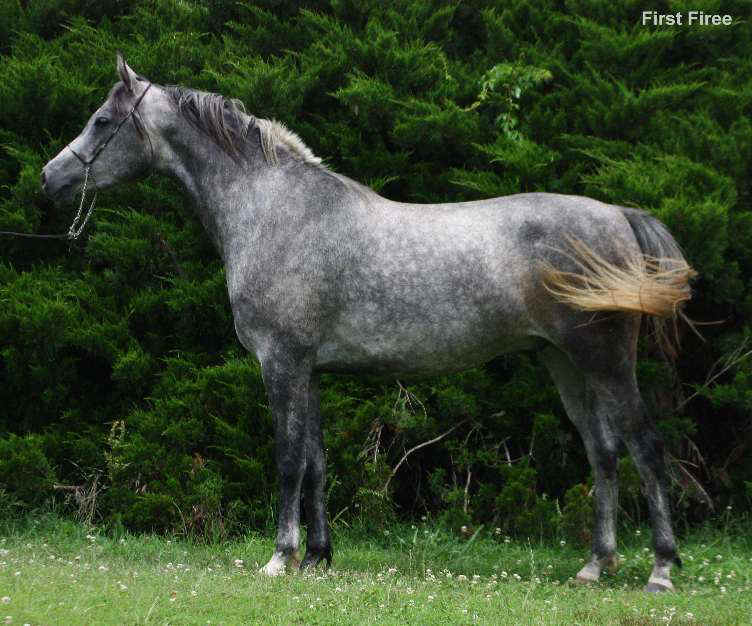 American breeding! This guy is beautiful, gentle and not a spook! He is the smoothest purebred I've ever ridden, and what's so fantastic, is he is just as smooth at the trot as the canter! "Spider" has done three 25 mile rides; his last being Memorial weekend. His rider is a HW. He was very calm and loved all the excitement! He's a very solid horse and likes men (but loves women of course!). Spider has everything...size, smooth, calm, and willing! Breeders Sweepstakes. $5000 Spider is going to Canada!!! He has found his perfect match with Kathy McCartney of Alberta! Feel free to email Kathy about buying Firedance Farms Horses long distance! clipclop@serbernet.com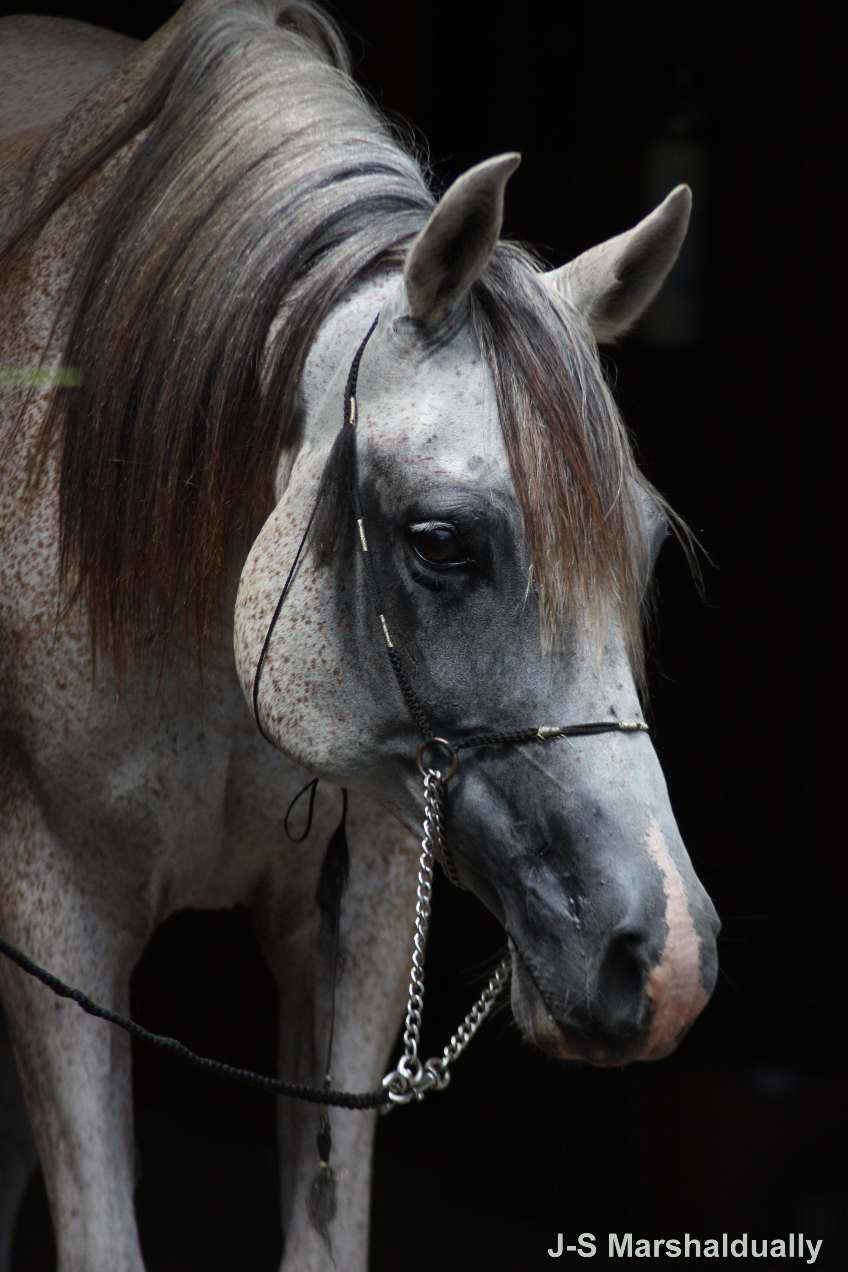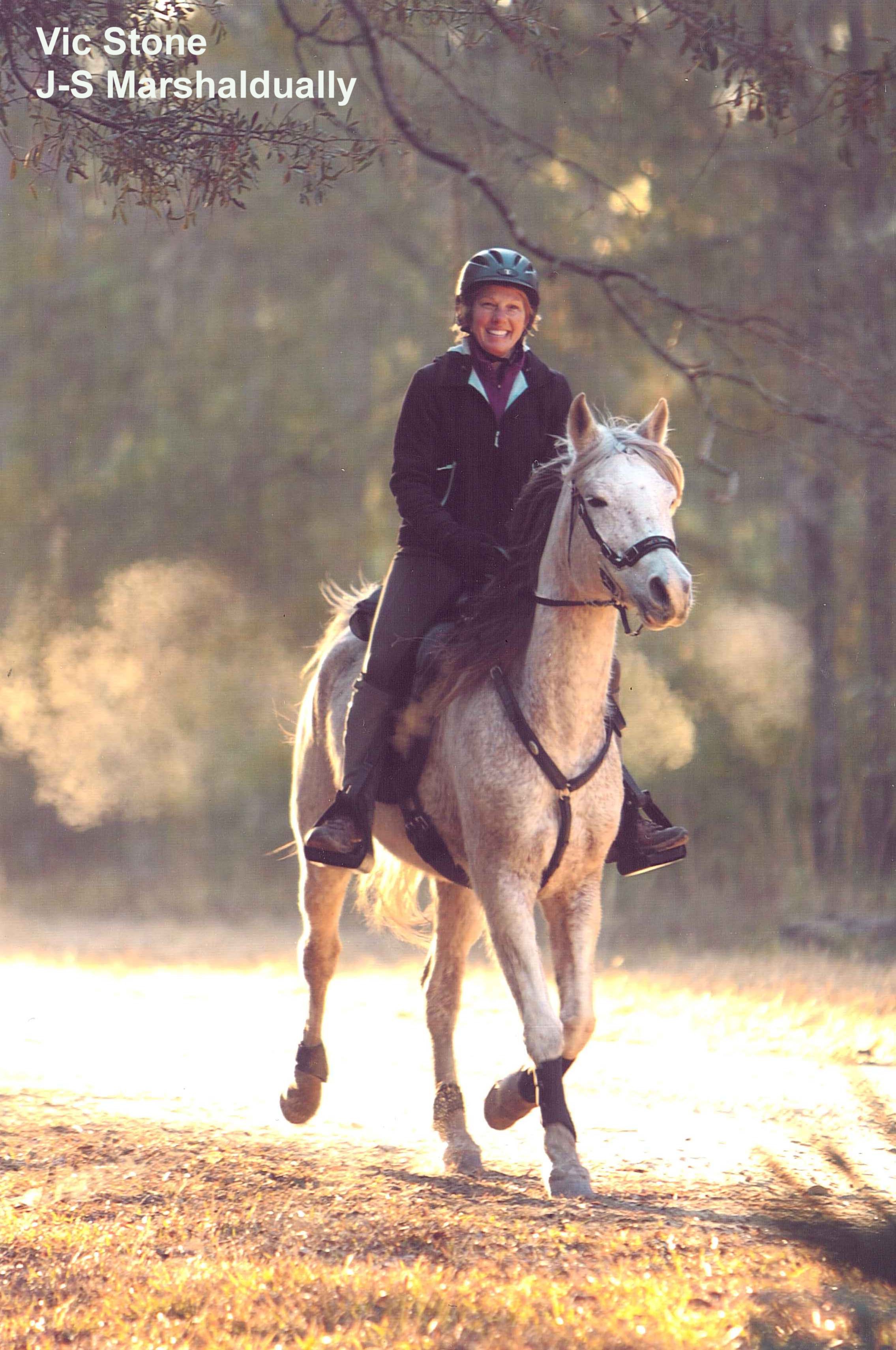 J-S Marshaldually: 12 year old 15.1 h grey gelding. He is 7/8 Polish (Queens Liege+ out of an imported LOTNY dtr). We had Marshall when he was younger and did several 50s on him. He was an outstanding 100 mile potential horse. His partner doesn't ride anymore and asked that we get him back into an endurance home. He has most definitely not been overridden! We've brought him back in training and he is the same wonderful horse he has always been. I just did a 50 on him Oct. 16th and he did excellent, finishing with a 44/48 CRI! Marshall is a very kind horse and not a spook. If you are looking for a solid finisher who is very smooth and has that wonderful relaxed lope, he is a great horse. He has a great stops and turns and really takes care of himself and his rider. He's mature (no silly stuff), 100% sound, and loves to go. Marshall's match is a quiet, sensitive rider. Breeders Sweepstakes. $5000 Too late! Marshall has found his perfect match with Vic Stine! Watch for them on 50s in the SE region! e-mail Vic about finding the PERFECT MATCH! stinev@clover.k12.sc.us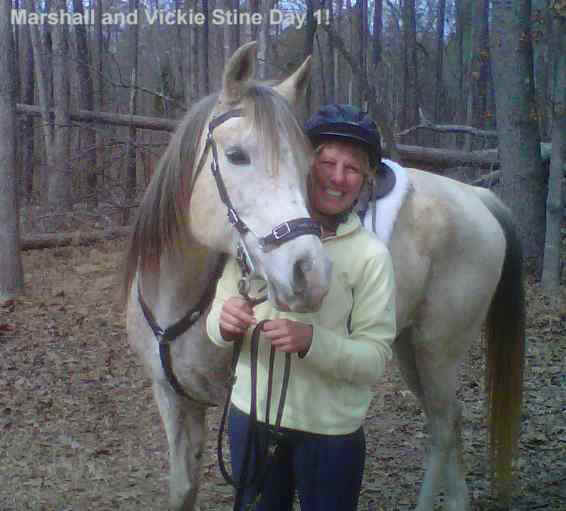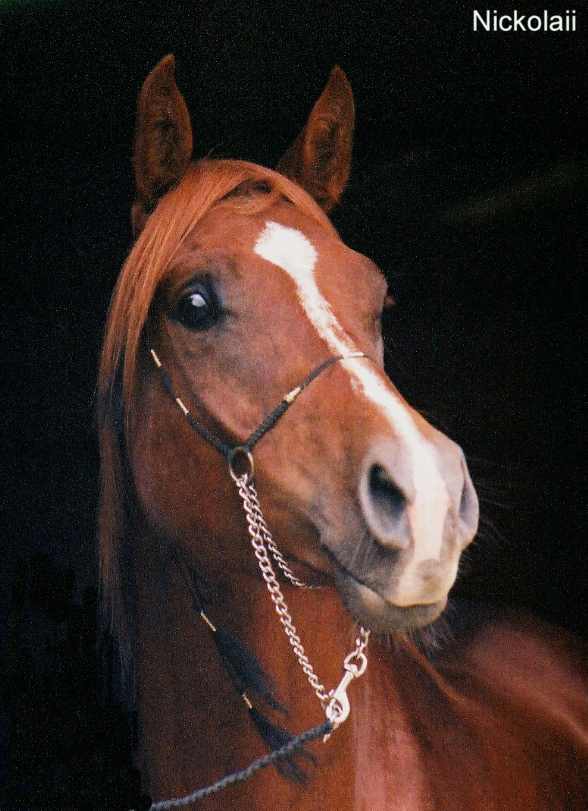 NICKOLAII 3-14-05. Nikki is going to be one of our 'stars'! Big chestnut gelding by KRAKOW out of THE ONE IMENT (*Menes x *Pesniar dtr). He is very correct, and very brave. Full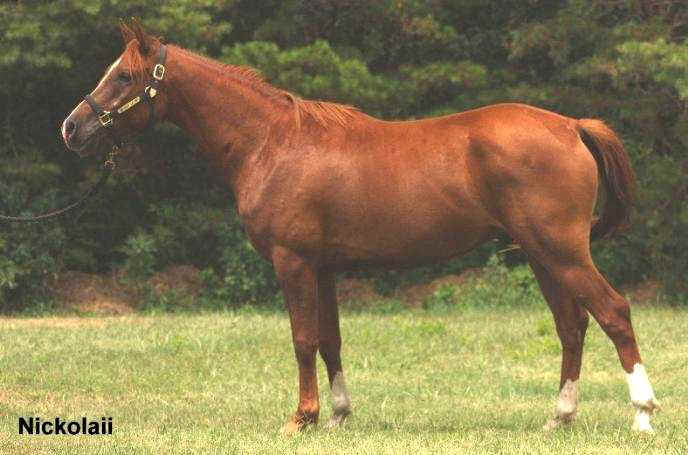 brother to Nockout. Nickolaii is 15h and still growing. He is not stocky but is a big boned horse. He has excellent manners and loves people. He has great recoveries and is very competitive. He has a very fast walk and that super Russian trot. Nikki is very sure footed and not a spook. He has done two limited distance rides this spring. We wanted to see just how good he was and WOW! He won Best Condition AND High Vet Score at Jo Tate II 35 May 24th. His CRI at the one hour was 40/36!! Now THAT is why I say he is going to be a GREAT endurance horse!! Give him some easy slow rides and he is going to make an excellent 100 mile horse! $5000 Nicky has found his partner in life with Jennifer Simpson. He has done excellent both in endurance and dressage, winning AERC NC Best Condition in 2012. You are welcome to email Jennifer about Straight Russian horses! jenjeffreysimpson@yahoo.com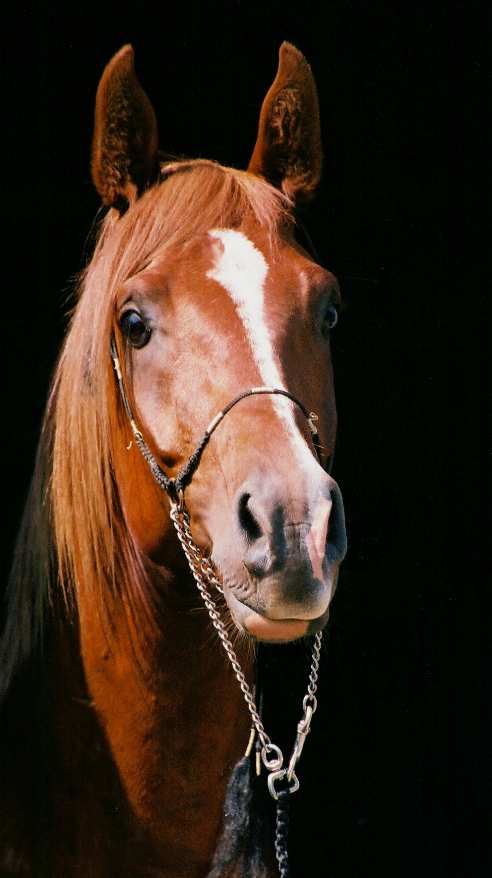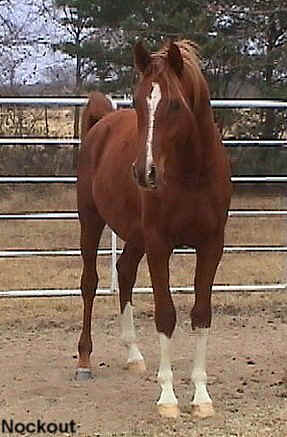 NOCKOUT: 3 yr old colt. (Krakow x The One Iment) see bloodstock. *Muscat/Menes grandson. Half brother to Nixx and Nitroxx. 14.3. This is a really nice colt. He is very big boned and a real powerhouse! He is not tall, but he is big, and suitable for a heavyweight rider. Nockout would also excel as a reining horse, as he is built to turn and move! Nockout has a wonderful disposition. He is very calm and willing to please. We want to get these straight Russian colts out to new areas in the United States to promote the wonderful Russian bloodlines! Too late! Nockout is going to Roxxane Batt,DVM, and John Schneider who now reside in Prescott AZ! Roxxanne says do not hesitate to e-mail her about Firedance Farms horses! roxvet@aol.com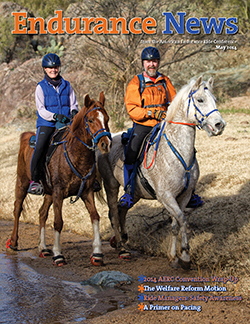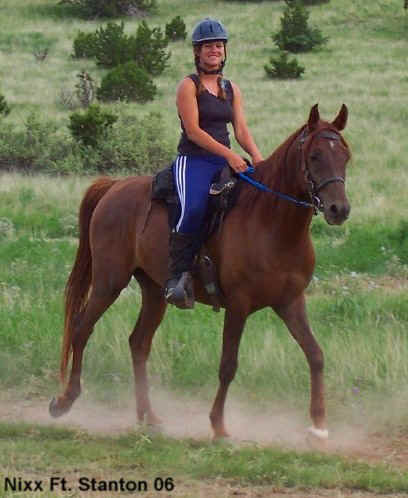 Nixx: We have Nixx here for sale, and he is AWESOME! 4 yr old straight Russian gelding by Madison Avenue x The One Iment. Full brother to Nitroxx and half brother to Nockout and Nickolaii. 14.3 1/2h. Nixx is an
outstanding horse. He's very calm and willing to please. He has excellent conformation and is going to be a great 100 mile horse. He's done one limited distance ride last week, and missed BC by a few points! We've taken this horse all over the place and he never 'bats an eye'! If you are serious about endurance and want a calm, well behaved horse, Nixx is the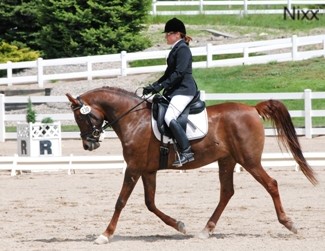 one! He is a fabulous tribute to our Russian breeding program, and the lucky owner is guaranteed to fall in love! Nixx is now owned by Lisa Boyd of NM. What an excellent pair they make! They have quite an endurance career! malcmpd@desertgate.com

MORE THAN FAITH 6 yr old grey BY GOLLY
SON. 15+h. This horse has a very interesting pedigree. His sire is the famous racehorse BY GOLLY and his tail female line traces back to the very first American registered horses! He has a beautiful extended trot but he loves to run! His only LD ride Dec. 31 and placed 10th out of 65 with Bruce (HW). Bruce said "I wasn't trying; he just passed everyone at the vet check!" "Frosty" is a stunningly beautiful white horse that just loves to go! He is a very tough horse; a characteristic which we have found extremely important. He's also just the nicest horse, and loves nothing more than to go out on trail! update: Frosty has proven on his first 50 Feb 11th to be the high caliber horse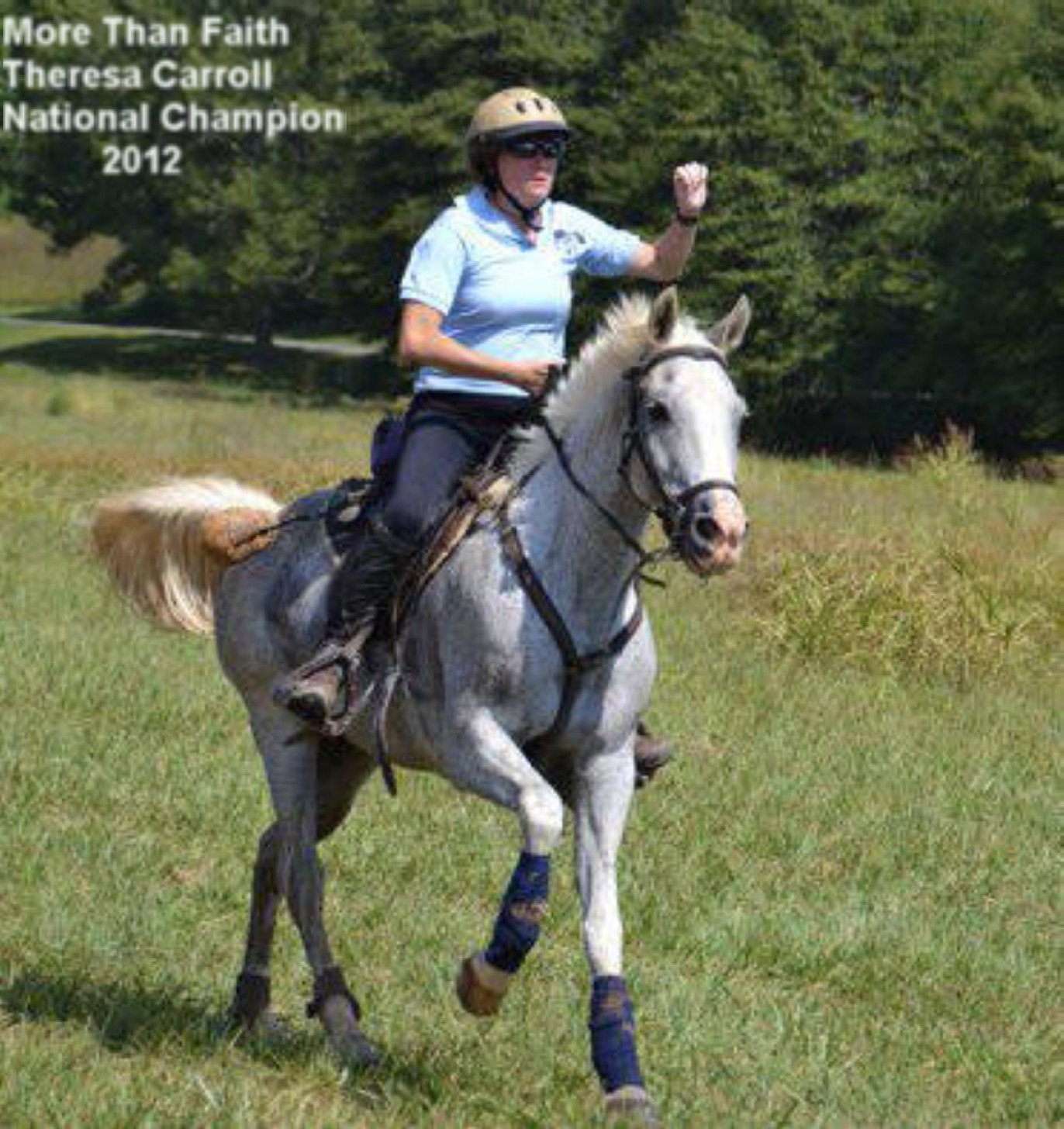 serious competitors are looking for. "Silas" is owned by Theresa Carroll and they have had a phenomenal endurance career, including AERC National Champion in 2012! dstwcarroll@gmail.com
LJR Propetual Motion: 9 yr old bay 15.2h bay gelding. The colt is a Strike and Pro-fire grandson! He's a really sweet horse and very well broke. He was regional champion in english pleasure several years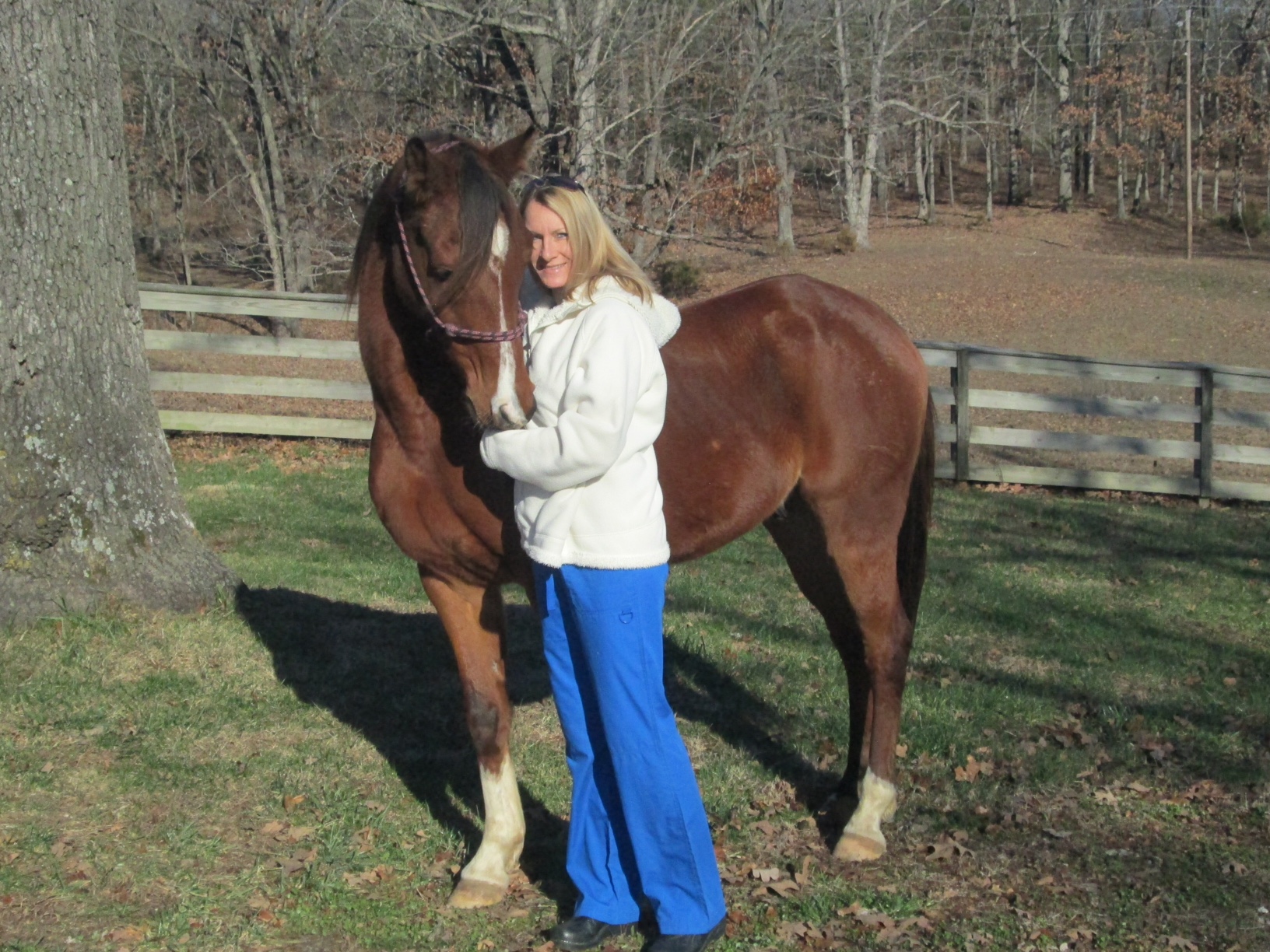 ago, but much prefers trail riding! He is not a spooky horse but can be antsy when tied in the barn. He needs to have a pasture home. Promo's match is for a calm experienced rider who loves to just go! He reminds me a lot of Kecia Smette's horse, Sqkr (SW region). I absolutely love riding this horse because he loves to go, has a great walk, and doesn't spook at anything! Plus he has been trained never to break gait, so when other horses take off he will wait until you give him the go ahead! He has that wonderful "lope" not many purebreds have. He tries really hard and loves attention. Promo has a very kind eye. He is a lighter built horse, and will do well in the the hot humid regions. His did first 25 last Sept with a 44 pulse on a crazy hot ride where over half the horses pulled for metabolics! He did his first 50 Thanksgiving and was outstanding. He wanted to canter on in on the last loop. He finished Racing Stripes in a breeze babysitting Naalo, our stallion, on his first 50 in April (photos). He has done 2 more 50s one super rocky and one super muddy with heavyweight riders and he did outstanding! This horse is perfect for someone who rides alone. He really wants to be your 'one and only'. Did I say how much I love this horse?? Breeders Sweepstakes. $5000. Update! Promo just won high vet score carrying 220 lbs on the ride last weekend! VIDEO: https://www.youtube.com/watch?v=UI8aqtBL9H0
Too Late!! Promo just found his lifetime partner with Janeta Carr of MO. You are welcome to email Janeta about Firedance Farms horses! janetakc@yahoo.com
JSN Kaluah and Cream: 7 yr old 15.2h half Saddlebred half Arabian Baske Afire daughter! "Lucy" is a very sweet, in your pocket mare. She is very well broke and loves trail. She is not spooky on trail and very smooth. Many riders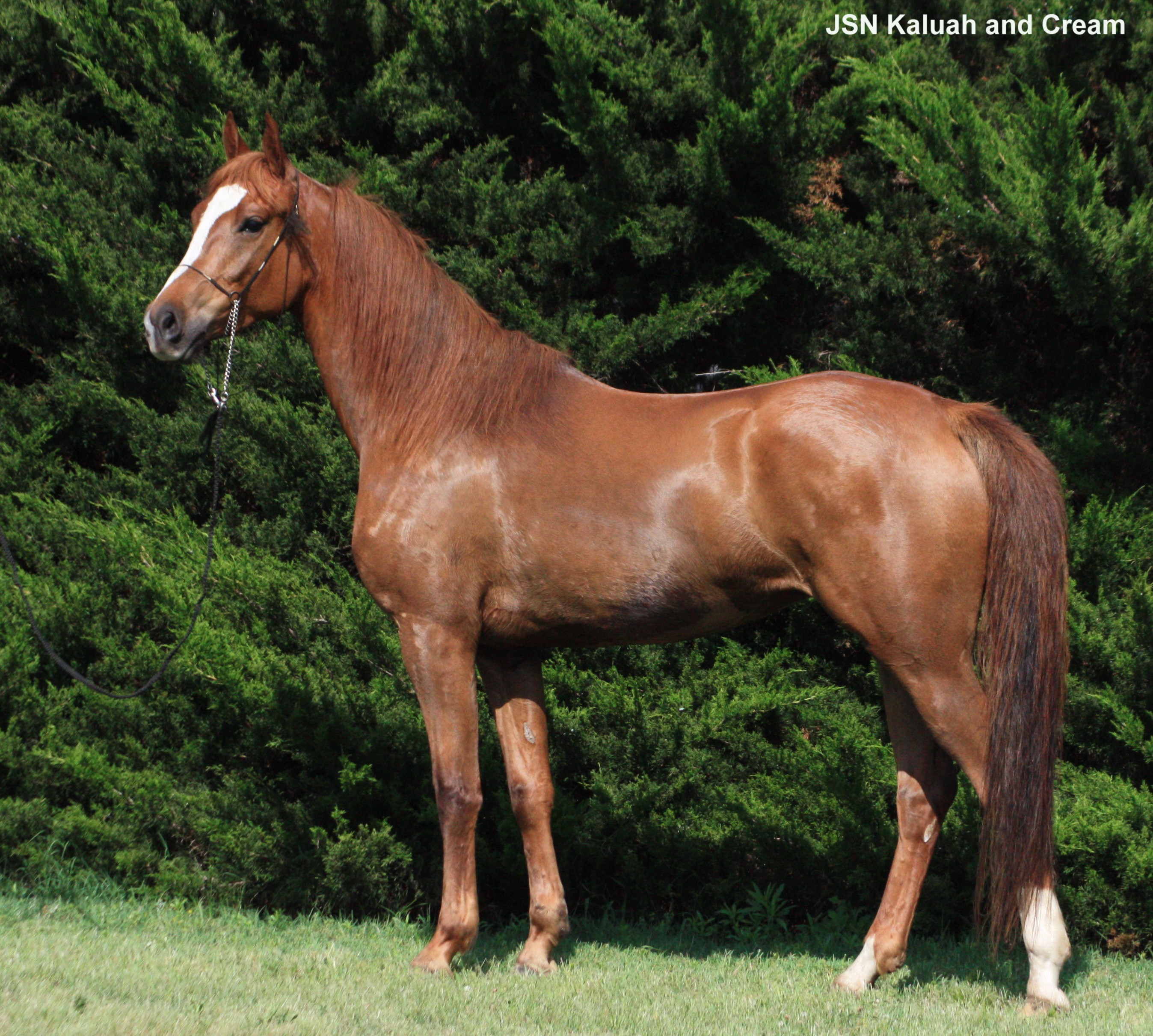 have discovered what wonderful horses the saddlebred/arab cross is. If you want a reliable horse on trail or in the arena, she is a good one! She did her first 50 Thanksgiving and was awesome! She also has great dressage potential and would do well in a boarding situation. Lucy is a big bold horse. She is super smooth and has a wonderful canter. Lucy has the personality and confirmation to be a top endurance horse but like many horses that are GREAT endurance horses, she is a dominant mare and you must establish who's in charge! Lucy loves men and needs to be someone's only horse, or kept in a stall/individual paddock situation. Bruce is dying to ride her on the Big Horn this year, but alas, that is for her new o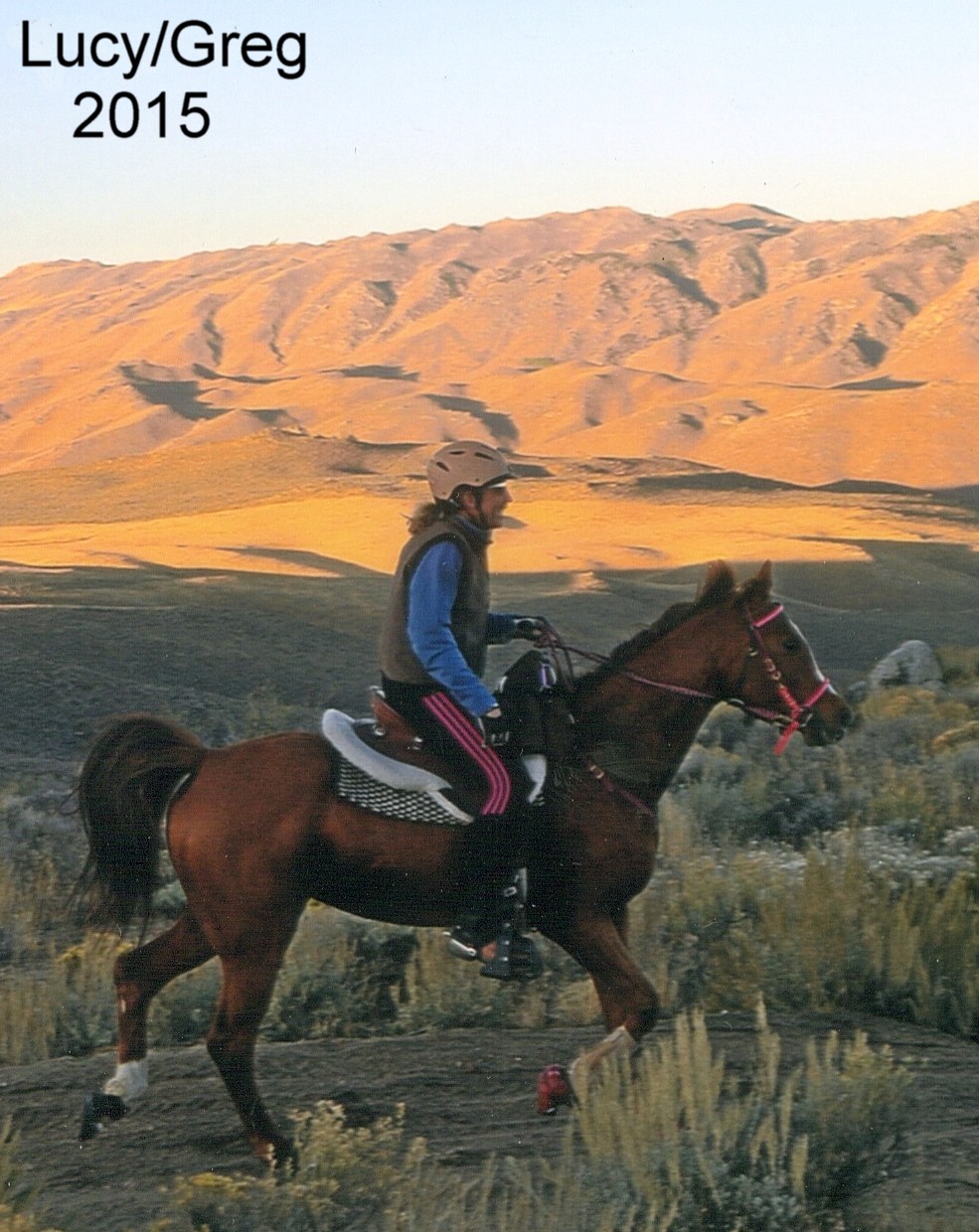 wner to do! $6000
VIDEO: https://www.youtube.com/watch?v=ql3a0-0gfJI
Watch out West Region! Lucy is now owned by Greg Mayer! What a great match!! rokjok123@hotmail.com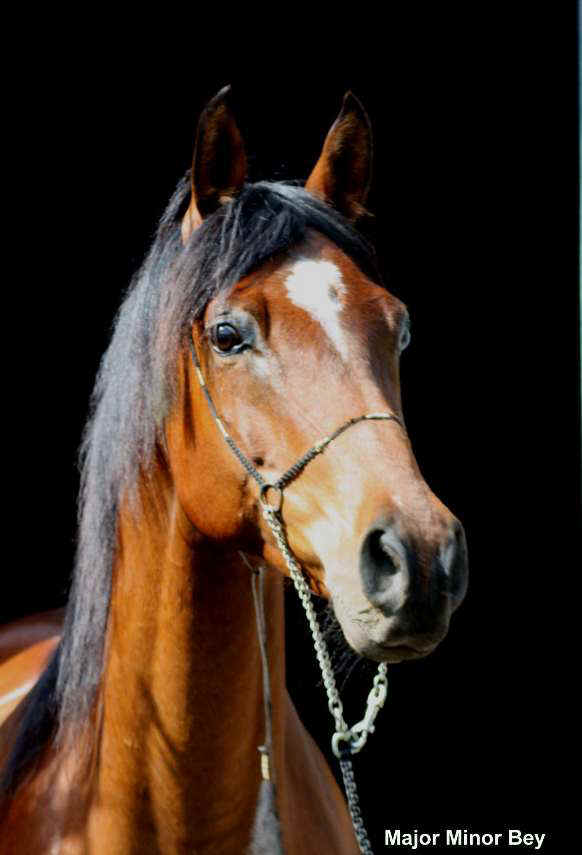 Major Minor Bey: 10 yr old 15h bay gelding. This horse has the best feet and legs you've ever seen!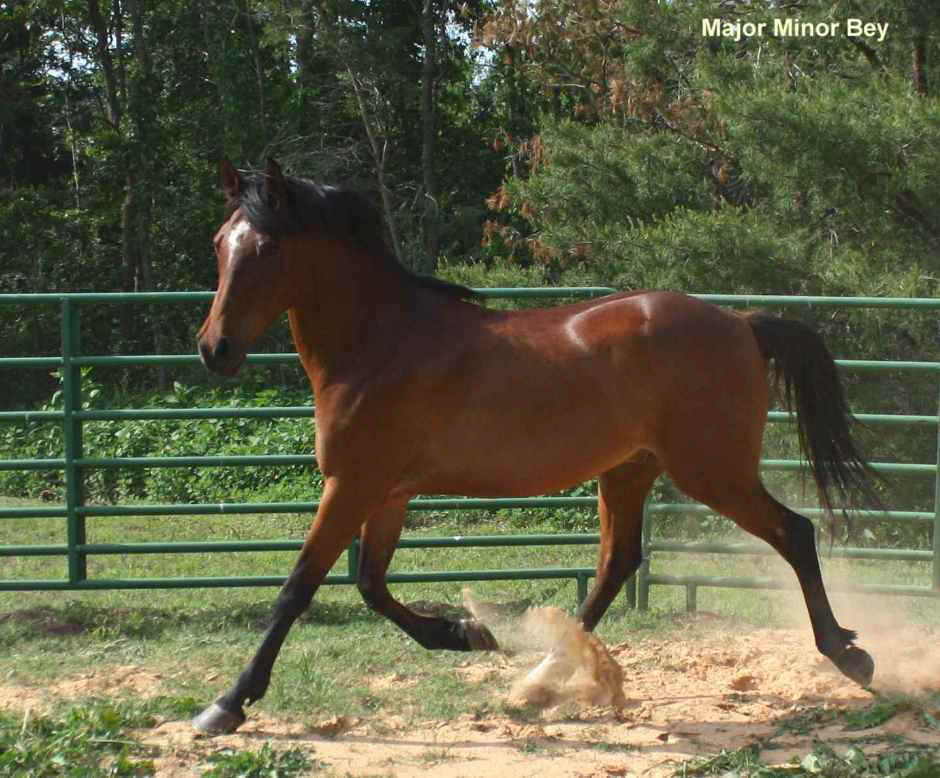 He's never worn back shoes. Major is very sweet and his match is a calm easy goingrider. He has done two 25s and his pulse rates are fabulous! His CRI on the first check in 90 degrees was 52/44. He has great gaits and loves to go. Major just completed his first 50 in super hot weather on a tough Ozark Mountain ride and did outstanding! And yes, he has that 'drop your reins lope' that can go forever! $5000 Major has found his forever partner with Emma McKinnon of MO. Do not hestiate to email her about Firedance Farms horses! suretoendure@gmail.com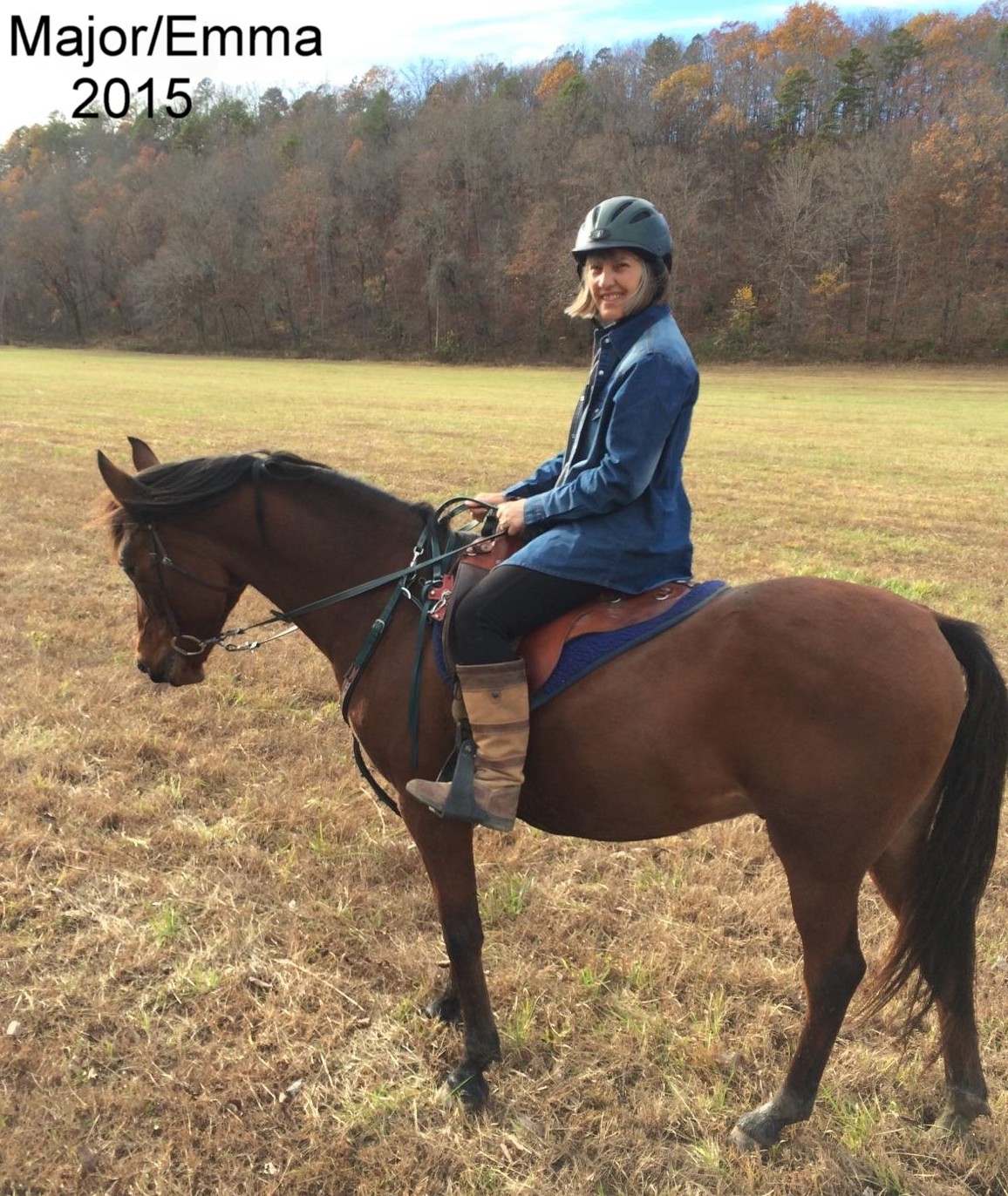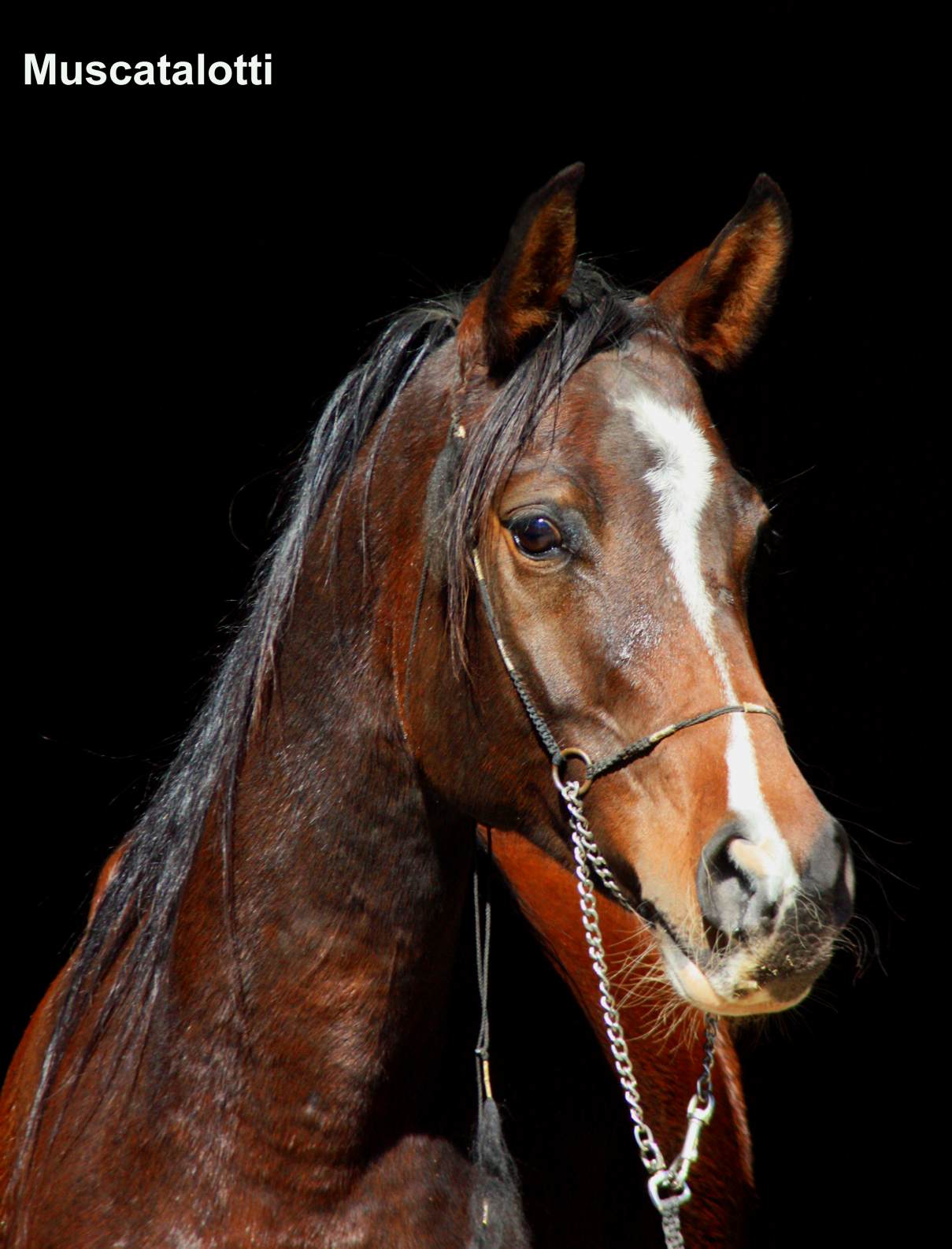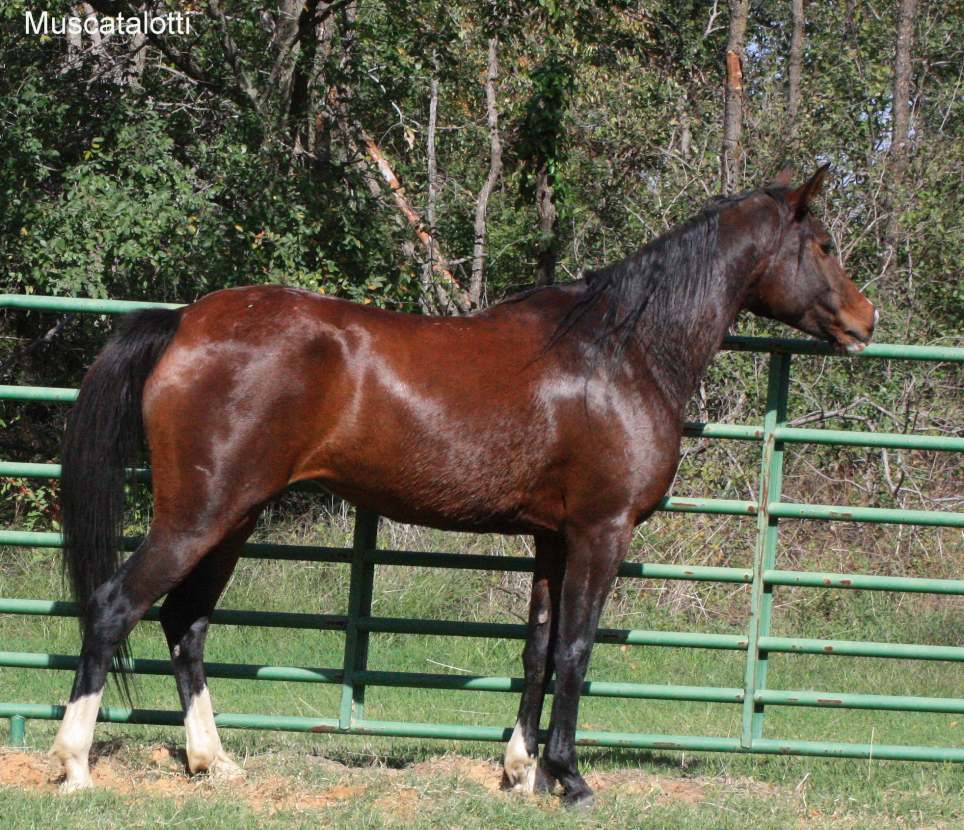 MUSCATALOTTI: We brought this mare into our program because of her tail female line. Her sire is Mussiah (straight Russian) and she is off the Taylor Ranch in Utah. Her tail female line is old desertbred...Rim, Astraled.. so we knew she would be tough and sensible. And she is amazing! She has been running on the ranch all her life and now she is doing fabulously on trail. This horse is very sensible and she is not a spook! She has feet of iron. She is six and between 14.3 and 15h. Breede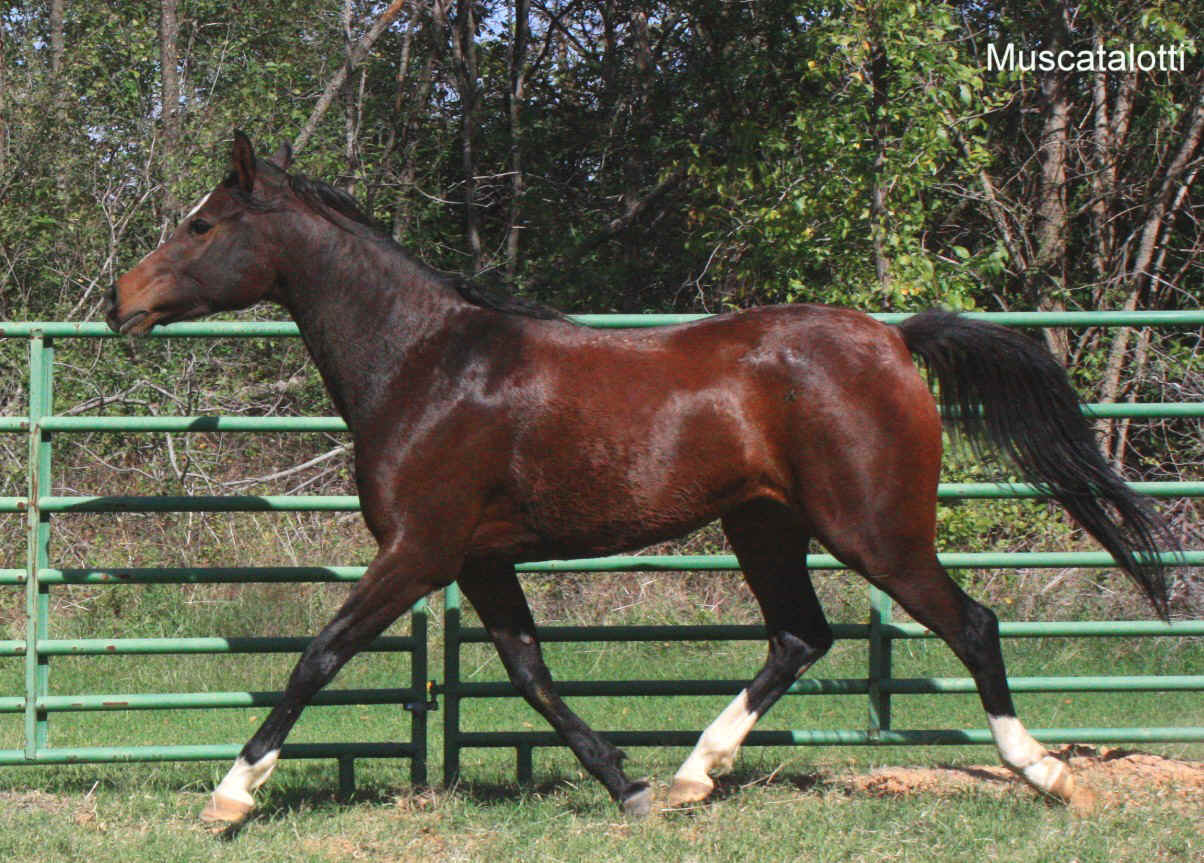 rs Sweepstakes. $5000.
VIDEO: https://www.youtube.com/watch?v=qFqIo0vxoCI UPDATE: Muscatalotti is now owned by Rebecca Johnson in NC! Watch out SE region in 2016!
You are welcome to email her about Firedance Farms horses! rbj1121@charter.net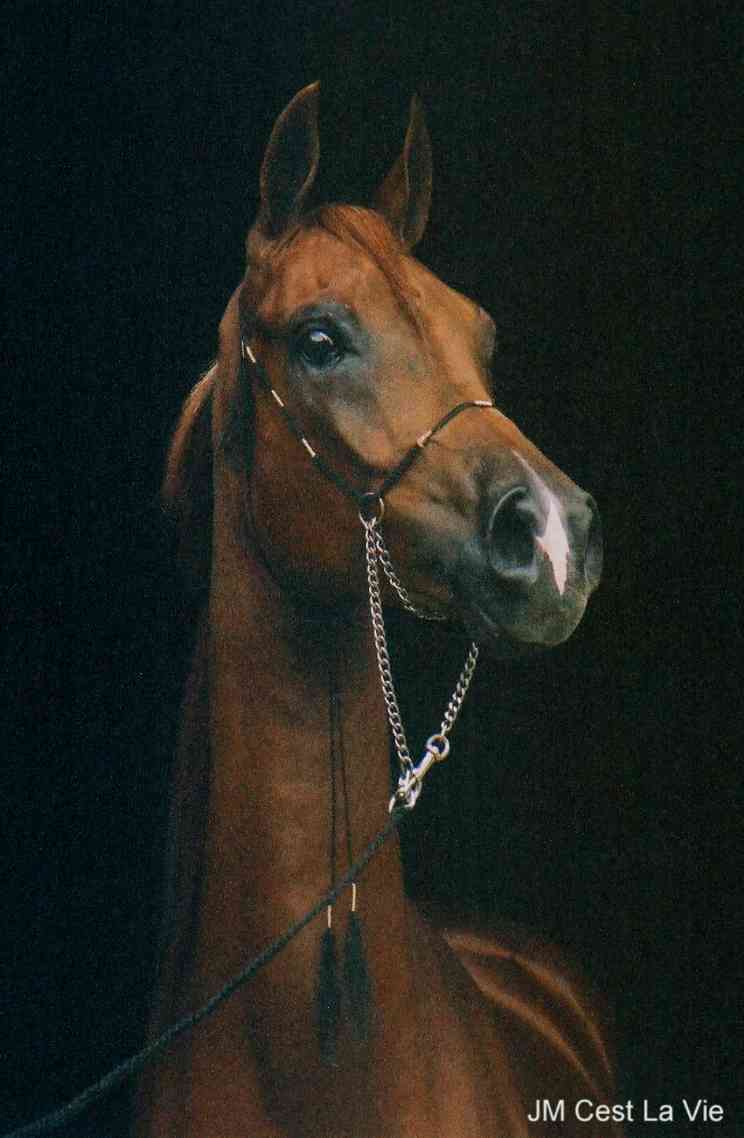 JM Cest La Vie I just did a 50 on this horse (9-6-09)in SE TX heat and he did fabulous! This horse is unbelievably fun to ride..smooth...calm...lets other horses go on...will MIND YOU!! Vie Vie is a gorgeous seven year old half Arabian half
saddlebred 15.1h chestnut gelding. His sire is pure Polish (Cognac son out of a *Perkal daughter). He has wonderful gaits and is very smooth! He has a beautiful headset and loves to go out on trail. As much as we love riding this horse, we realize he is now ready for his new partner. Warning! Vie Vie insists that you will be his best friend! He just loves attention and runs to the halter! Vie Vie would do very well for someone who likes to do various disciplines with their horse: arena, endurance, and competitive trail. His extremely smooth trot will make it easy on riders with old injuries!He is not a big boned horse and would do well in warm, humid climates. Vie Vie and Bruce won first place and Best Condition at Blackwell or Bust 25 mile ride Nov. 28th. Vie Vie did his first 50 June 27th in SE OK...the thermometer read 109 degrees and only 8 finished! Breeders Sweepstakes. $5000 "Jimmi" is now owned by Roberta Harms of IL! May you have as many memories with him as Sha-win! Feel free to contact Roberta about FiredanceFarms horses!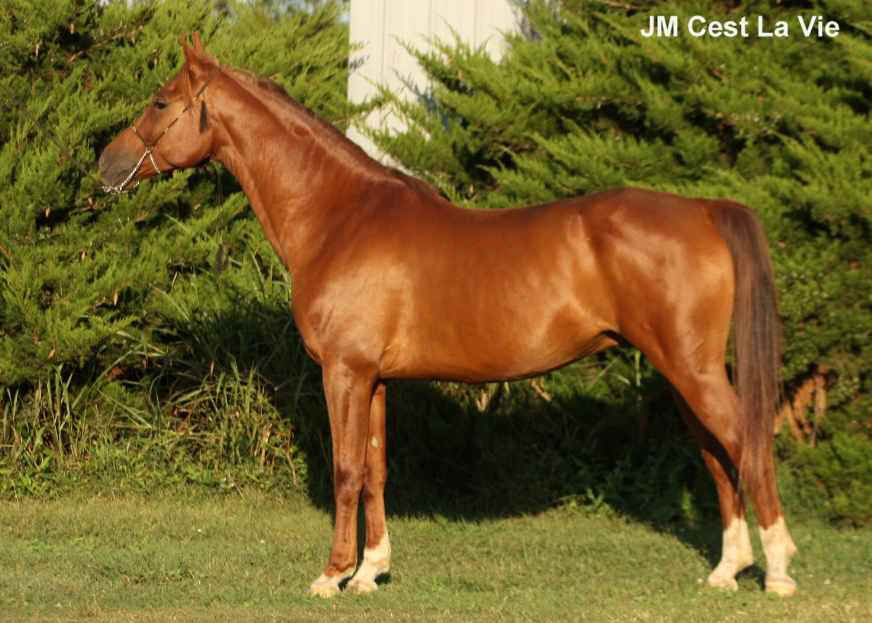 equiphil@aol.com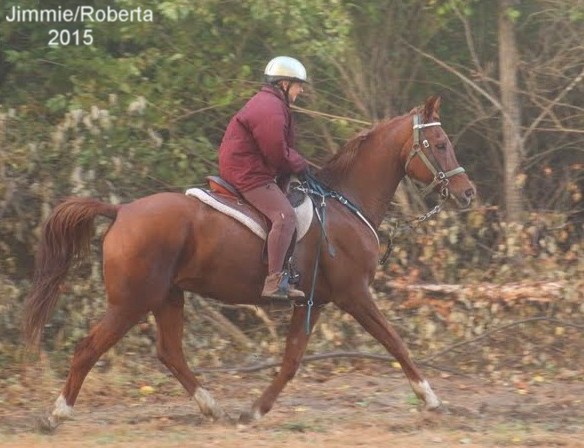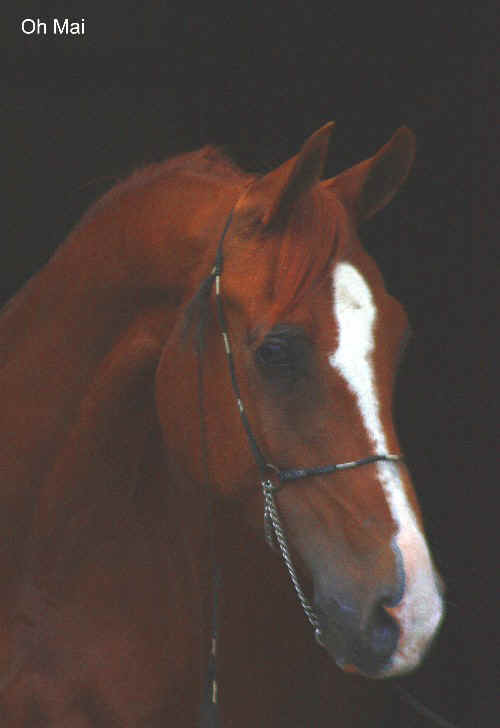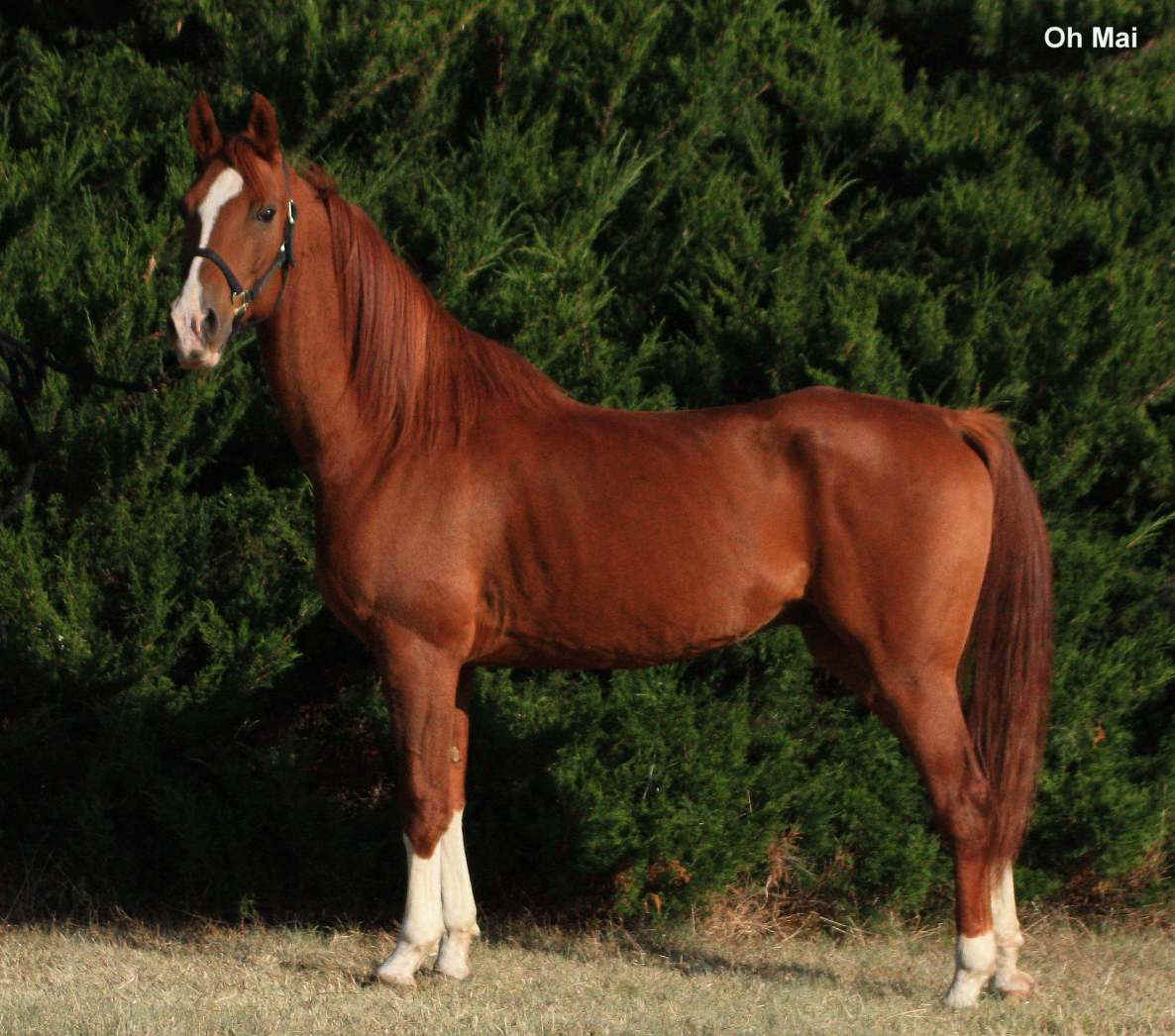 OH MAI: 9 yr old 16h big solid 1/2 Arab 1/2 Dutch by the wonderful Majesteit and out of a Medalion daughter. Bruce bought this horsebecause Majesteit is his favorite stallion and the sire of Simply Magik, who was one of our very best who went to Jordan. The Dutch adds bone and engagement in the rear. Oh Mai loves men! He is a very kind, gentle horse and not a spook. He has done four 25s with great BC scores and is conditioning to do his first 50 Thanksgiving. Oh Mai has an absolutely gorgeous trot. His match is a kind, easy going rider (preferably man) who wants a safe horse to ride alone. Oh Mai likes to go and doesn't like to stand still. He prefers men and someone who rides with contact. He excells in the hot humidity! If you want a horse who is very brave, will go anywhere, and loves to just go, he is for you! Breeders Sweepstakes. $5000 UPDATE: Oh Mai got high vet score on his first 50! Too late though, as he has found his perfect partner with Arnie Novenstein of CT! Feel free to email Arnie about Firedance Farms horses! arnienovenstein@gmail.com
VIDEO: https://www.youtube.com/watch?v=zMeutVAFEY4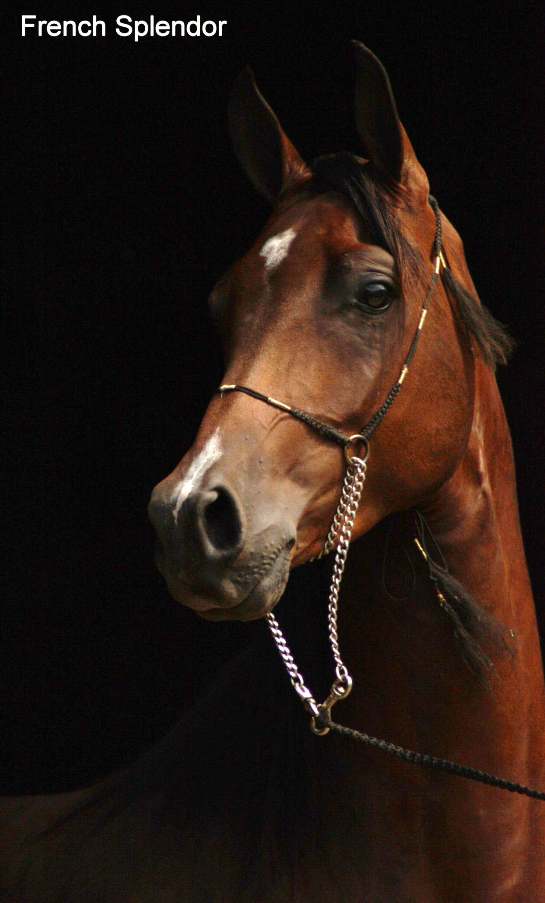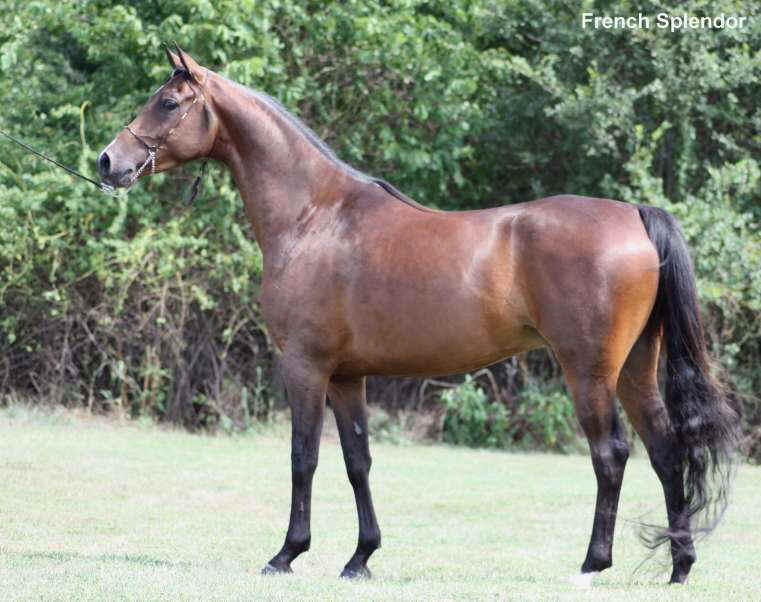 FRENCH SPLENDOR: This is another big bay gelding! French Splendor is 15.2, coming 8 and a purebred. He is very well broke and has great smooth strides. He is rather a clown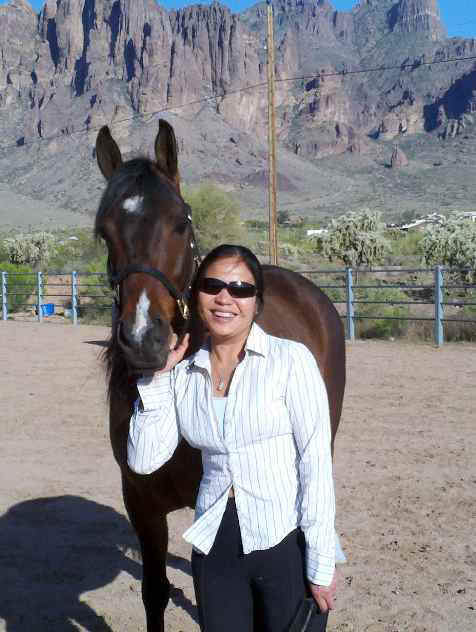 and not a timid horse, and just loves for you to goo goo over him. This was one of our very good Firedance Farms horses three years ago. Princess Alia wanted him to go to Jordan, but he was already sold! Due to an emergency situation, he is back in training with us, and he is every bit the great horse we knew him to be! What I like about him: he doesn't shy, he has a very cadenced smooth trot, a super fast walk, and loves people! He did a tough 25 in the Ozarks in March and is scheduled to do a 50 mid April. French Splendor is a big horse and has a great back. He would be a good heavyweight horse. Breeders Sweepstakes. $5000.Frenchy has found his perfect match with Dawn Hoang and Nick Huynh of Mesa AZ! Feel free to email them about Firedance Farms horses! cosmeticfamilydental@yahoo.com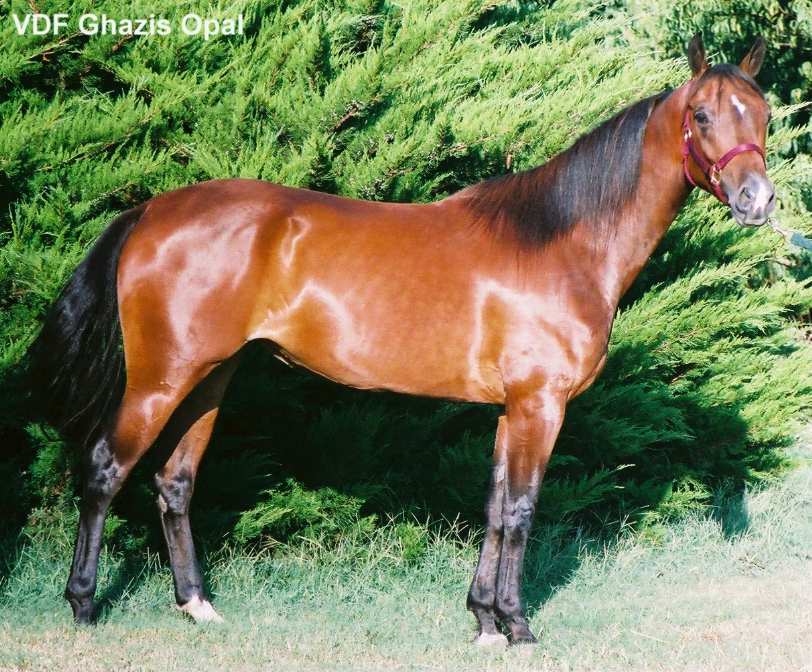 VDF GHAZIS OPAL: Opal is a very game horse and is ridden by Bruce (tacks in at 215). She has done several limited distance rides and done very well. She finishedBluebonnet 25 "only trotting and walking" in 2:59. Bruce could not believe his time! Opal is a 15.3+h mare by the Great Dutch Harness Horse, Orlando, and out of an Al Ghazi Arabian mare. She loves people and will bond with you very well. She likes men. Opal is a big boned mare but not a stocky mare. She is well broke and has a very nice headset and loves to do arena work! She would knock the socks off sporthorse and dressage judges! Opal is a level headed horse and a lot of fun to ride! The DHH gives her big bone and size but not bulk, and an awesome walk and trot! This horse can really drive off the rear! Opal is 5 and is ready for her first 50. Look at the potential this horse has in dressage, eventing, or multidays! Breeders Sweepstakes. $6000 Too late! Opal has found an excellent match with Jill Hill DVM, of PA! You are welcome to e-mail Jill about Firedance Farms Horses! aurorab04@yahoo.com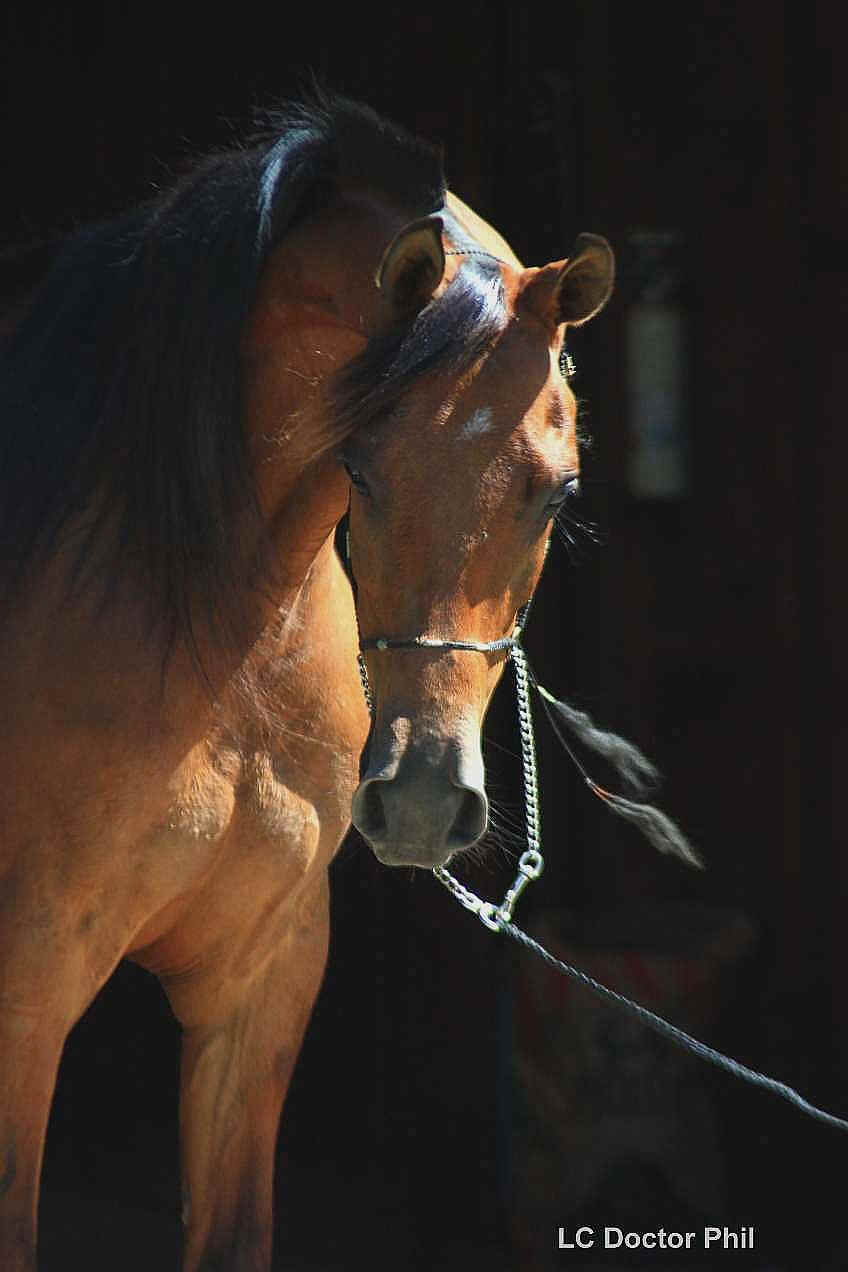 LC DOCTOR PHIL: 15.1 1/2 6 year old bay gelding. This is another very nice bay 'doctor' and also 3/4 arab and 1/4 saddlebred! Phil is smaller than Dre, and not as aggressive. Phil is very well broke, and has been shown in hunter pleasure. He will make a great best friend, as he is very willing to please and wants someone to bond with. Phil is very kind and very smooth. This horse's match is for a quieter rider who may want a more versatile horse. He also would be great for someone who is short or has hip issues, as he is narrow, but with a great flat back. He completed his first 50 with a HW with excellent vet scores on a hot OK ride this summer. Phil will definitely get into your heart! Breeders Sweepstakes. $5000 Phil has found his perfect partner with Lisa St. John of Ca
rmel CA and soon to be of NY!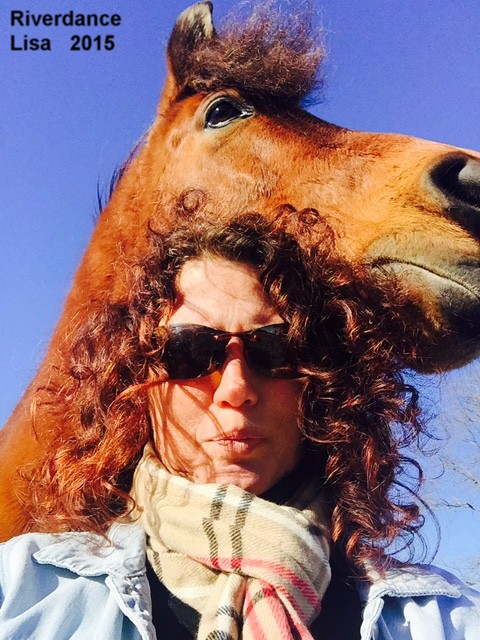 AKA Riverdance!
VIDEO: https://www.youtube.com/watch?v=fsFHONL7YSA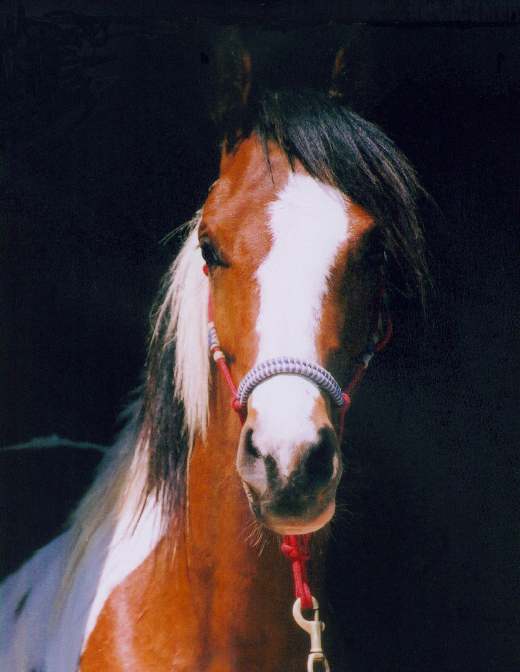 PKH Spottlyte: 3 yr old 1/2 Arabian and 1/2 Saddlebred. 15.1+h. Spottlyte has good solid bone and beautiful gaits. I picked Spottlyte out because he was one of the most beautiful pinto Arabians I had everseen, and he has turned out to be more than I had ever hoped for, as he is gentle and very willing to please. Currently in training and doing great. Breeders Sweepstakes as well!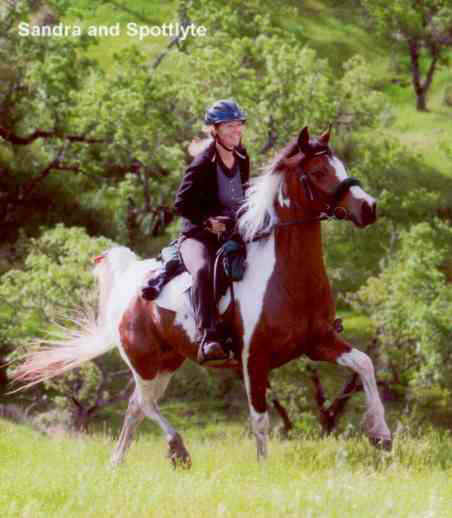 Too Late! Sandra Bartsch of CA has already snapped him up! sandra@sbeventprod.com
Hatanis Little Buck: 15h 8 year old chestnut gelding. Buck is scheduled to do his first 25 Nov. 6th. He is an absolutely gorgeous horse who is extremely gentle and is very well broke. Buck was an outstanding western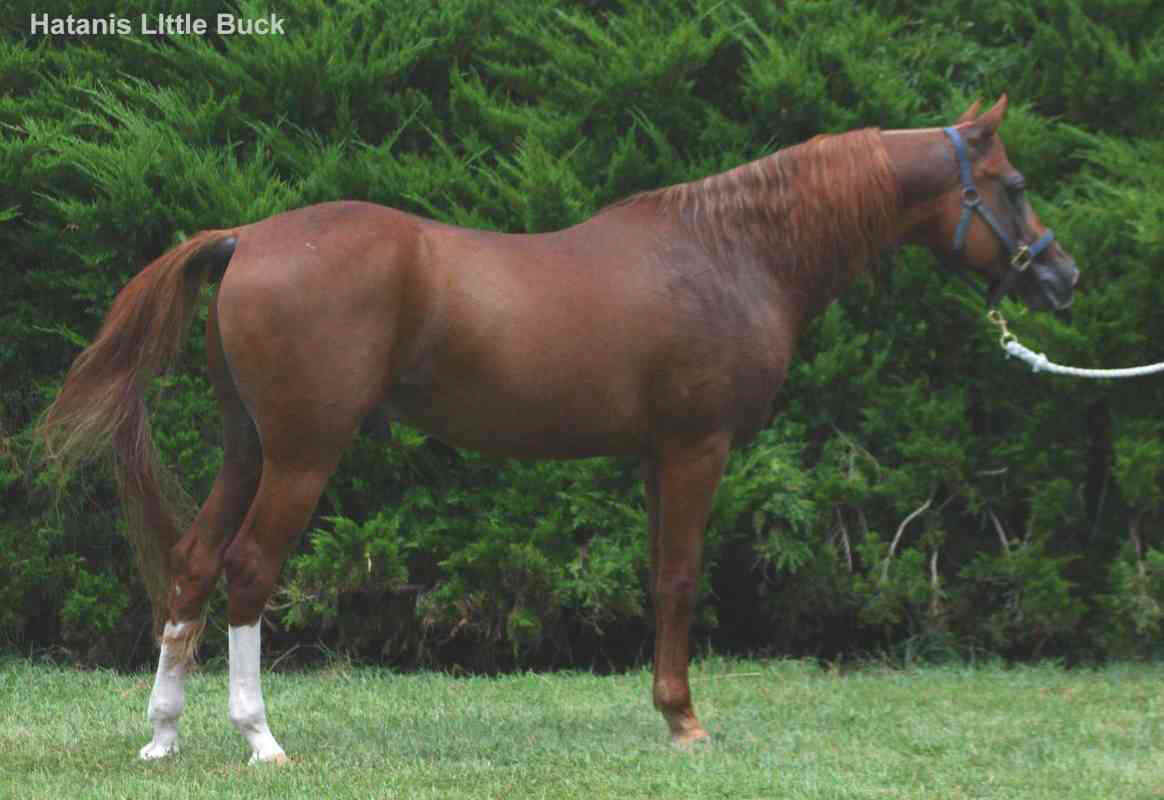 pleasure horse, but when we saw this horse trot out, we had to have him in our endurance program! He has a wonderful fast walk, smooth trot that can really cover ground, and then that wonderful loose rein relaxed lope! $5000. Too late! "Buck Oakie" is going to CANADA!! Karen Badger and Winita Mitchell are going to have a great time with Buck! Grow that coat fast, little guy! You are welcome to write Karen regarding Firedance Farms Horses! dkbadger@hotmail.com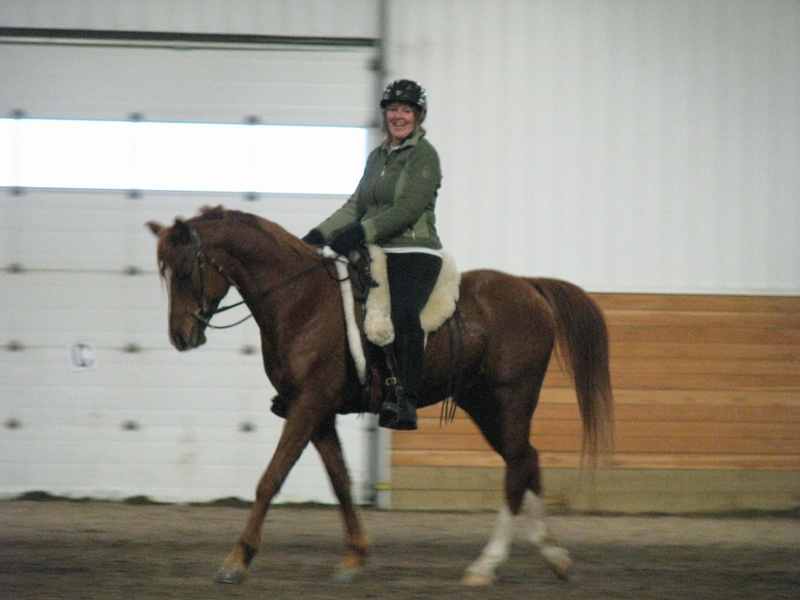 Karen and Buck have a webpage! Check it out! http://teambadger.webs.com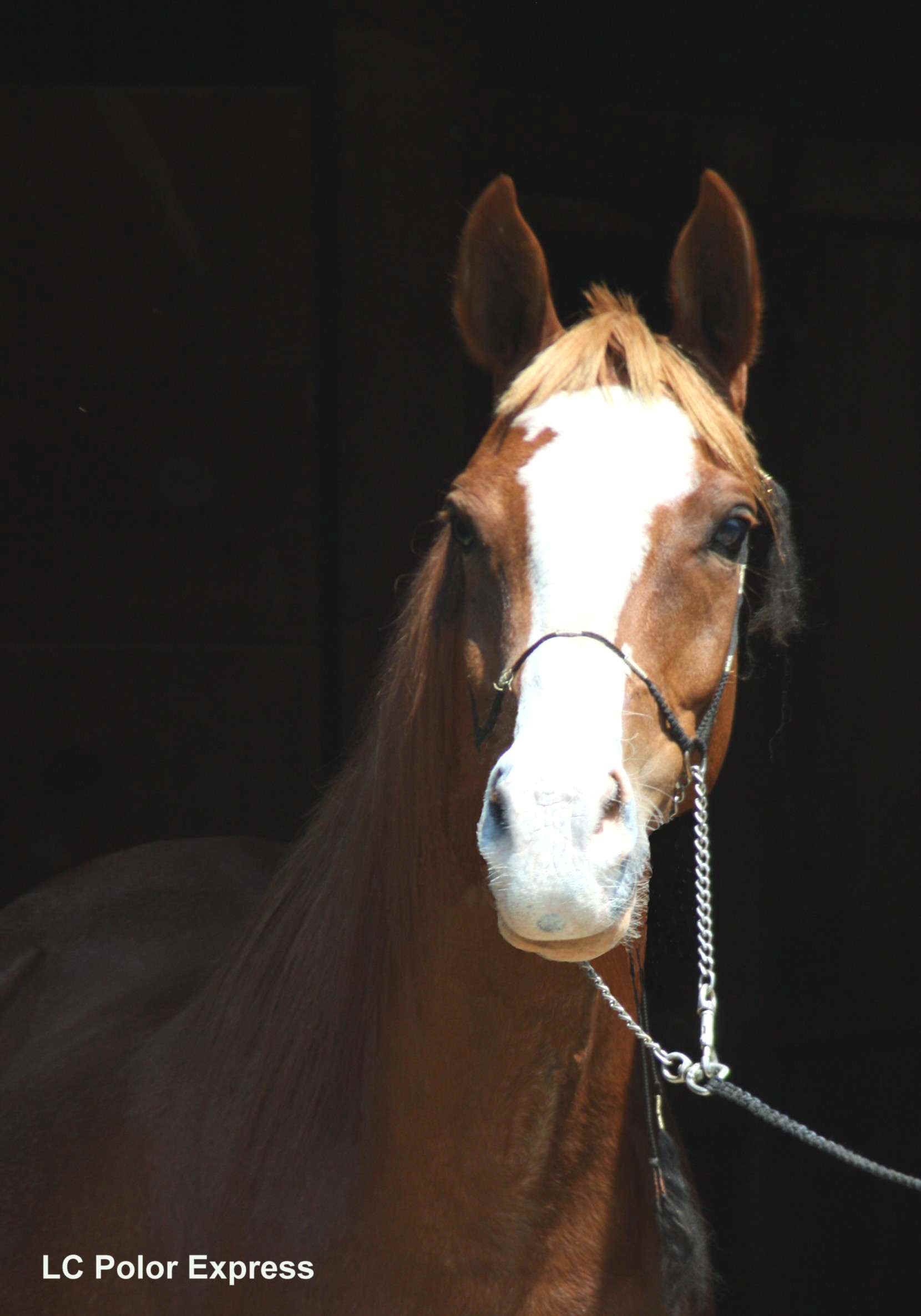 LC Polor Express: 7 year old purebred 15.1 hand gelding. Polor loves to go and loves to please. He received high vet score on his first 25 with a HW rider. He has amazing recoveries. Polor is 'light' and will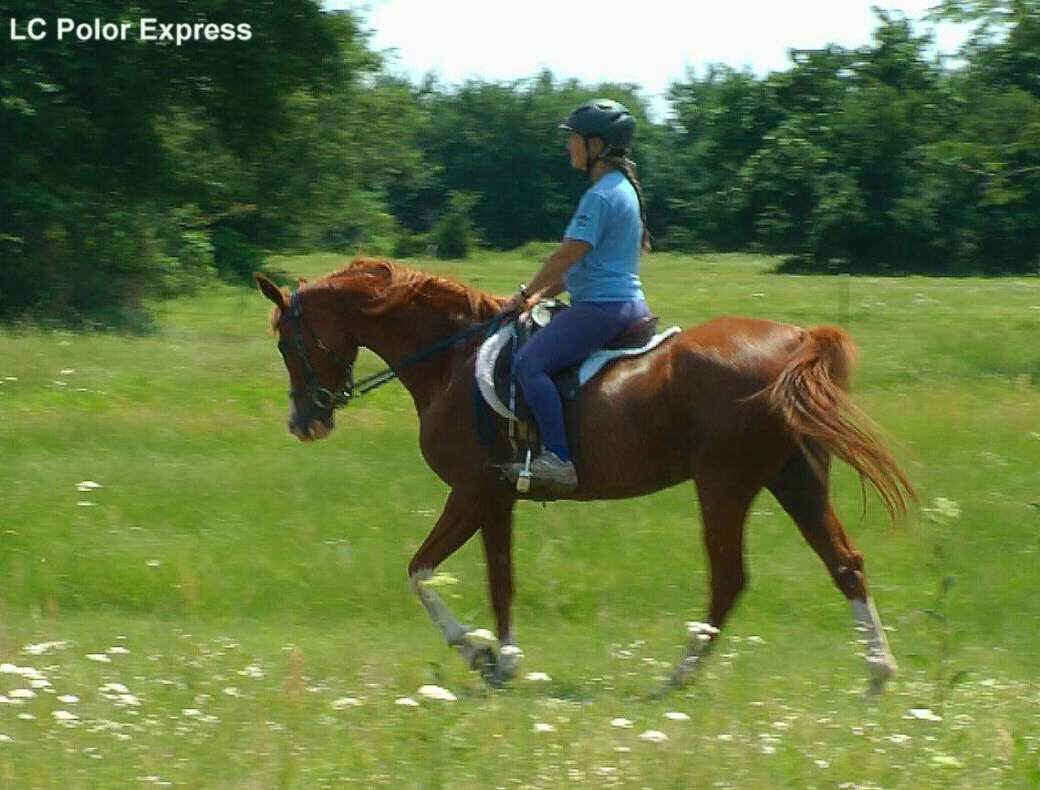 excell in the heat and humidity. He has a high wither so he is not suited for western riding. English saddles and many endurance saddles fit him fine. Polor's match is a LW rider who wants to be very successful on hot humid rides! He is scheduled to do his first 50 the end of June. He is also very well trained in hunter pleasure. Breeders Sweepstakes. Polor is staying in the Central Region with Carol Stoddard!
Video: https://www.youtube.com/watch?v=7SmZOQjFv2w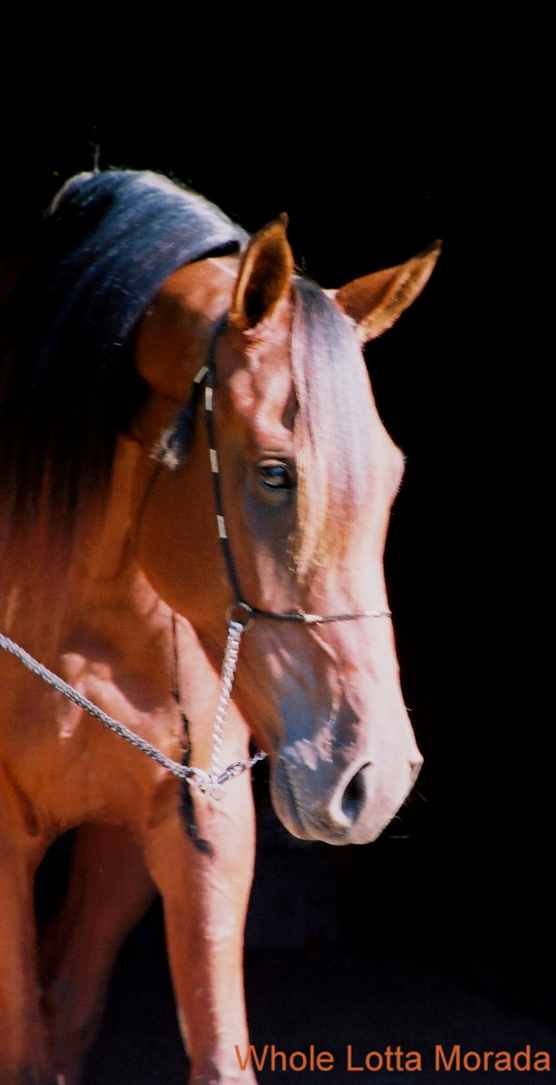 Whole Lotta Morada: We have another great one! Morada is a 7 year old 15.3+h 1/2 Saddlebred 1/2 Arabian gelding by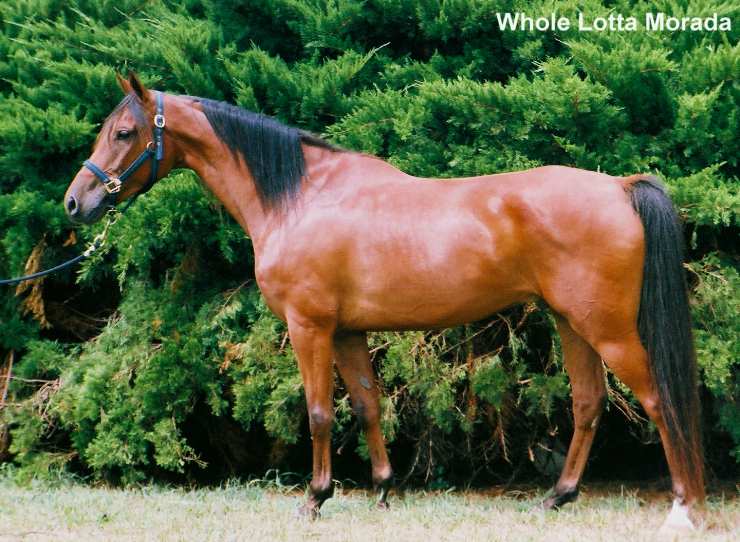 Islamorada++. Morada is going to be an outstanding multiday or 100 miler! He is extremely athletic and has gorgeous ground covering strides! He is very kind and loves to be ridden. He received 2nd place and reserve BC at Blackwell or Bust over Thanksgiving on his second 50! This horse has great potential for a serious competitor. $6000 Morada is now owned by Vickie Crance!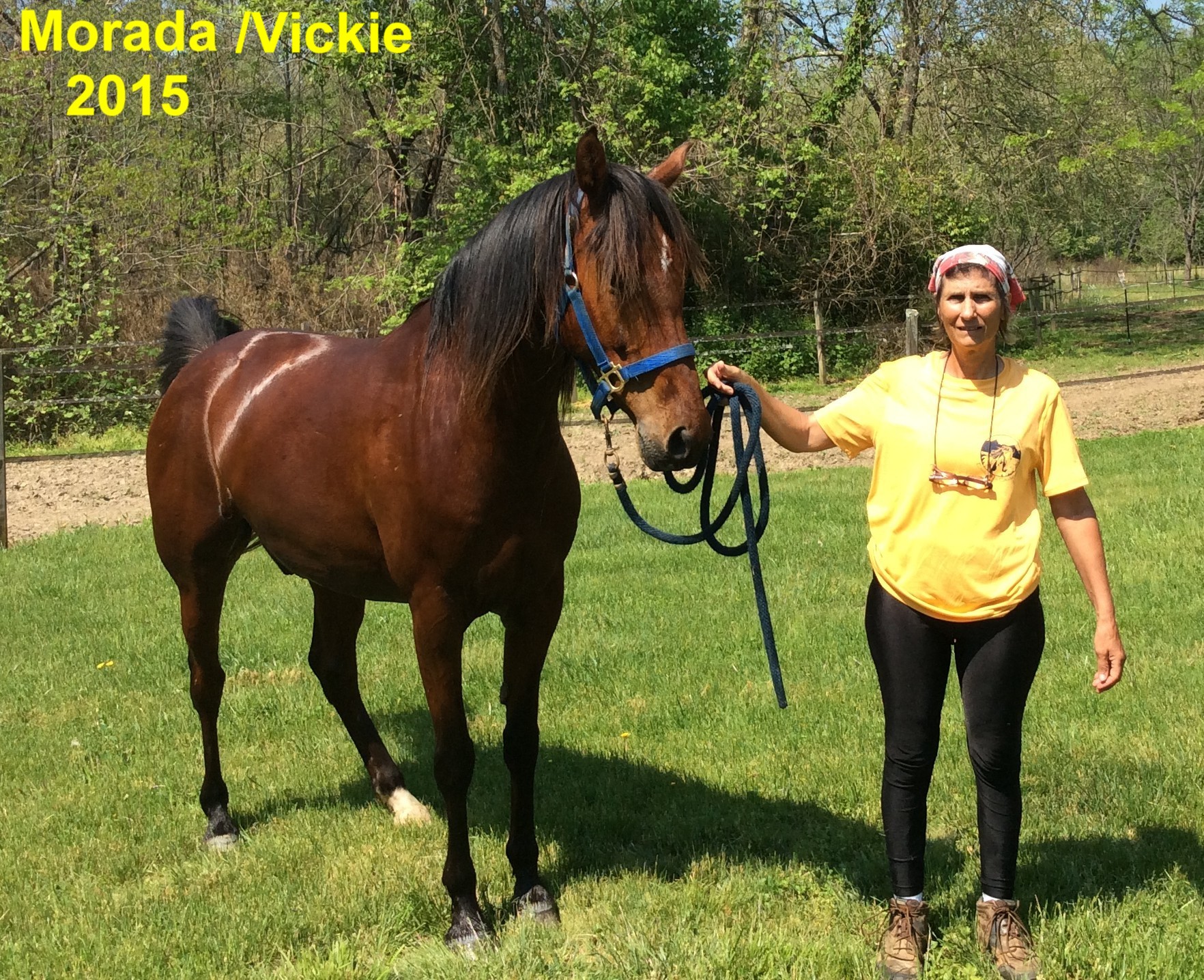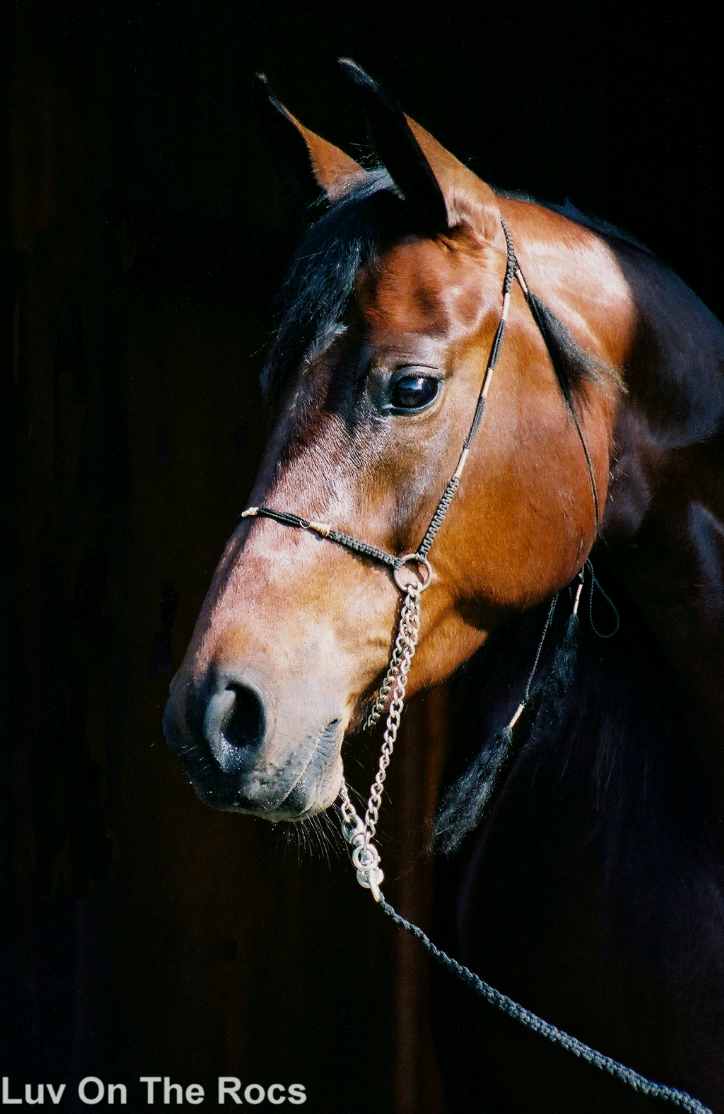 Luv On The Rocs: This horse is for the serious endurance rider who wants a multiday/100 mile horse or to be competitive in 50s. Roxy is a beautiful 7 yr old 15.2 1/2h+ bay mare. She is very smooth, and surefooted. She is by SA Hudson Bey out of a saddlebred mare (JRs Last Love). She is a registered NSH and 1/2 Arabian. Roxy has excellent conformation, and a great back. Did I mention SMOOTH? She has a super fast walk and will be an excellent 100 mile/multiday horse. We have done three 50 mile rides on Roxy and she is excellent! Roxy isn't a spook and loves to go! She is very tough and very competitive. She also shows a lot of talent for eventing. If you are a sensitive rider who is willing to ask instead of demand she will be your lifelong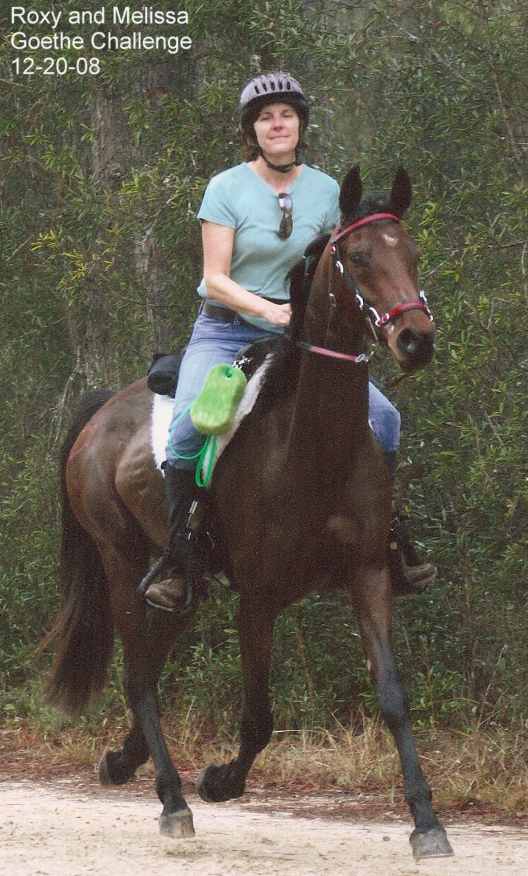 partner who will take you to the end of the Earth! Breeders Sweepstakes. $5000. Melissa Powers of FL has snatched Roxie up! May she have endless trails with this great mare! Melissa says you are welcome to write her about buying horses from Firedance Farms! :melissap@onearrow.net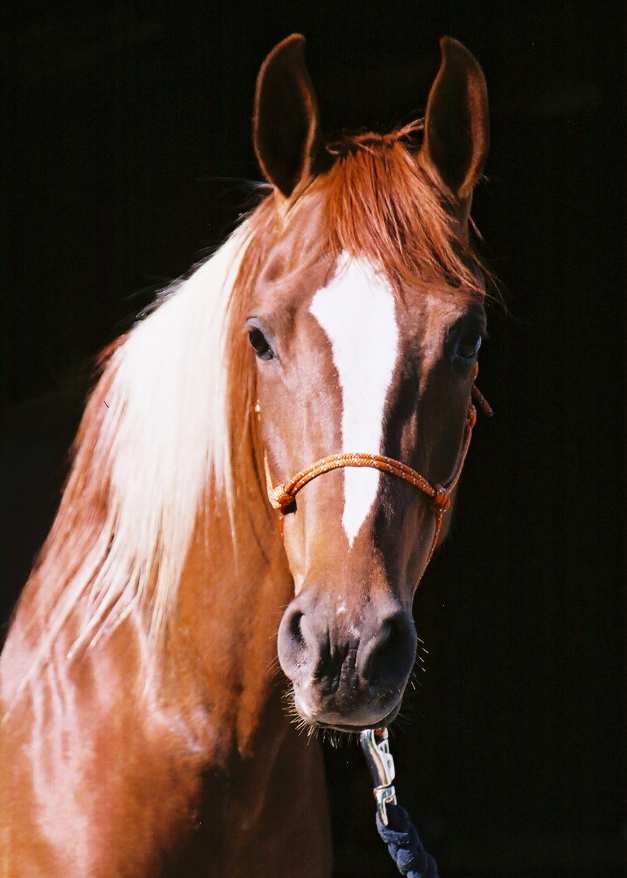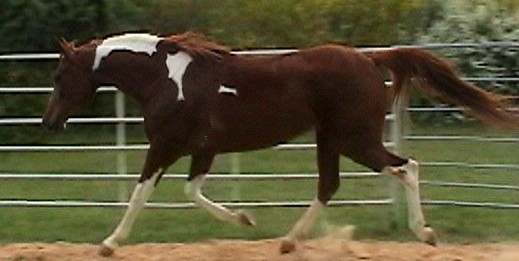 Romance of the Rose: 5 yr old 15.1 hand filly by POSEIDON BAY, our Pinto Endurance Horse of the Year! We were so excited to find this filly, we had to put her in our program to make sure she goes to a great endurance home! This is a beautiful mare who has excellent gaits and is brave like her father! She has not had the opportunity to do a limited distance ride yet, but is ready! Rose is 11/16 Arabian, 3/16 Saddlebred, and 2/16 Paint. She is both a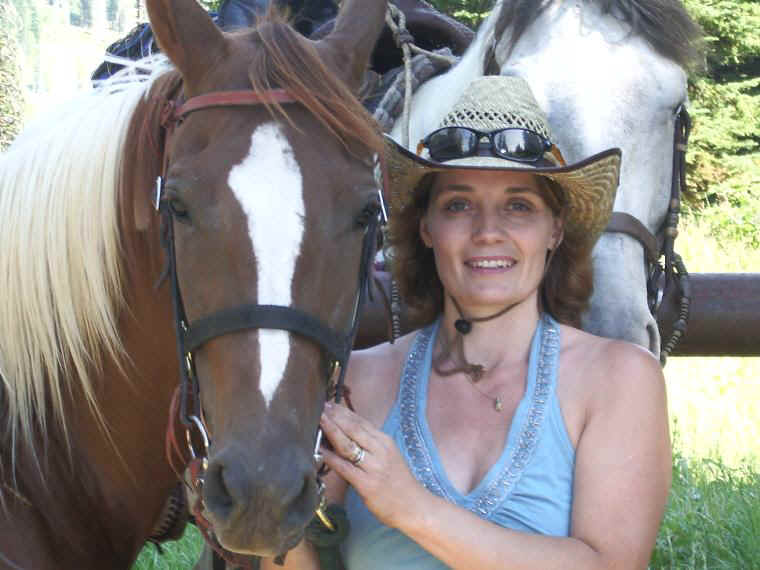 registered half Arabian and registered Pinto. We have been most impressed with this mare. Rose has found her partner! Christina Dammerman of McCall Idaho now has a best friend! Feel free to e-mail her about Firedance Farms Horses! ophel@citlink.net
Eagles Rock Ser 8 yr old 15+h bay gelding. Wonderful blend of Russian, Polish and Crabbet breeding. *Mellon(Celebes) grandson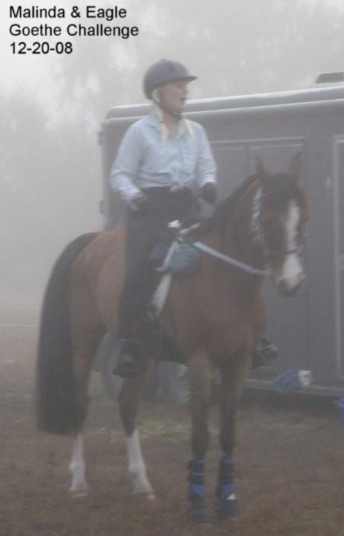 out of a Straight Russian ganddam. This is an upright, big boned gelding suitable for a heavier rider. He is super savvy on trail, not a spooker, and loves to go! This is a very tough horse and will excel on tough trails. Look at the power in this horse!! He will take you as far as you want to go! Eagle did his first 50 June 11th in 103 temp and did excellent with a HW rider! He would have been my choice to ride the Big Horn 100, but we did Ft. Stanton instead! Eagle has found a wonderful match with Drin Becker in MT. Watch out next spring, NW and MT regions! Drin says do not hesitate to ask her about Firedance Farms horses! jkn3444@smtel.com Update: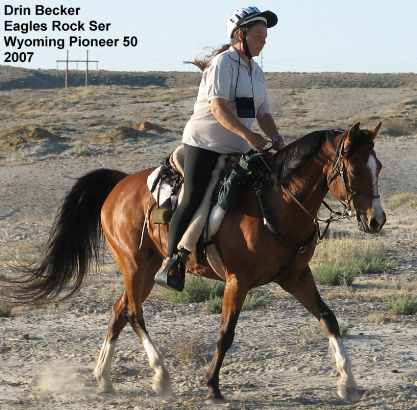 Eagle is now a Florida resident happily owned by Linda, Malinda, and Max Brown linmax1999@yahoo.com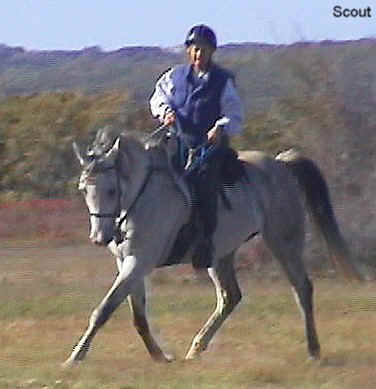 FM LACROSS: This is a big beautiful gelding that Maureen Briggs sent me to train "to be just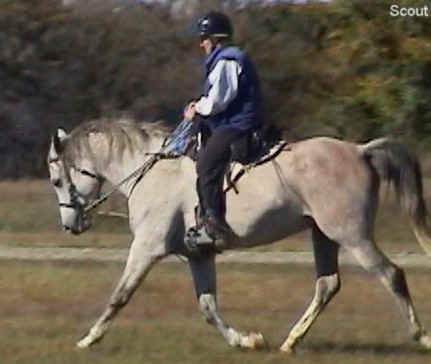 like Raz". But alas, fate stepped in, and "Scout" found his match in another! He is proudly owned by Susan Keil DVM, in KS. Please feel free to e-mail Susan about how our matchmaking works! They did their first 100 together last fall! susankeil@yahoo.com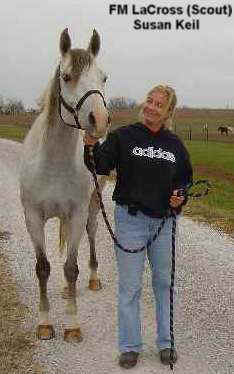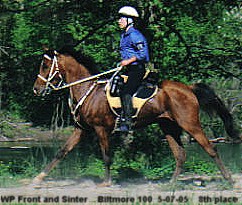 WP Front and Sinter: "Sarge" is a gorgeous 15.3 hand six year old bay gelding. He is a very tall horse, but not a very big horse. Outstanding conformation. Rascal will be very competitive in AHA because he is a 7/8 Arabian and Sweepstakes. He should do very well in the half Arabian division! He moves like glass, and is super sensitive to your cues. He has done two 25s and three slow 50s this spring, although he managed to top ten every one! He loves to go down the trail and has a great walk. He is the perfect multiday hot weather horse for a light weight rider. For Sale after the Colorado Horse Park Challenge Labor Day. . Rascal won RESERVE CHAMPION 1/2 Arabian at the CO HPC! This horse is really going to go places and is a serious candidate for international competition! Ride him in the Nationals next year! Too Late! Rascal is now owned by Tom and Rita Swift of WVA. He will now become part of their excellent group of endurance horses! tomrita@citynet.net News Flash! WP Front and Sinter got top ten on the Biltmore 100! Way to go "Sarge"! His first 100! Tom says feel free to e-mail him about Firedance Farms horses!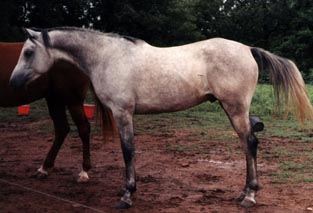 ABEDNEGOS FLAME: Now owned by Darolyn Butler-Dial! She knows a GREAT horse when she sees one!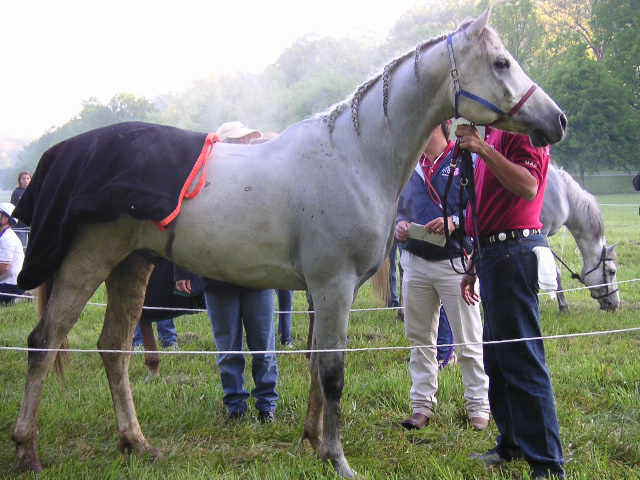 Congratulations on your 7th place win at Biltmore with H.E. SHAIKH BIN SULTAN AL NAHYAN KHALID! Update: Benny is now owned by RJ Wentzel! They just won the AHA Region 9 championship!!